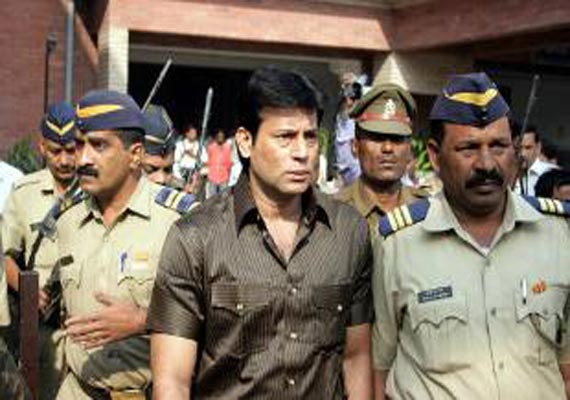 Mumbai, Jul 30: Gangster Abu Salem, who survived a bid on his life in Navi Mumbai's Taloja jail last month, yesterday  moved the special TADA court seeking directions to the jail authorities for shifting him to Portugal Embassy in Goa or Delhi.
"The applicant (Salem) may be transferred to Portugal Embassy till the final decision is reached on the issue of his repatriation back to Portugal post termination of Extradition order in the interest of justice," reads the application filed by his advocate Rashid Ansari.
In the application, Salem has also said he feels unsafe in any other jail and pleaded not to be transferred to any other jail "in the interest of justice since the risk to his life is on a higher scale in other jails".
Salem said officials of the Taloja Jail had received an order to transfer him to the Thane prison.
According to Salem, he has made several applications stating that he faces death threats in other jails from 1993 Mumbai serial bomb blast accused Mustafa Dossa, fugitive underworld don Chhota Shakeel and others.
"Though he was attacked in the Taloja jail now the security is beefed up hence there are little chances of any further attacks on his life whereas the chances are high in other jails," the application says.
The application will be heard by the special TADA court later this week.
Salem, an accused in the 1993 Mumbai serial blasts, was extradited from Portugal on November 11, 2005, after a prolonged legal battle.
The Supreme Court of Portugal had last year dismissed an appeal of the Central Bureau of Investigation (CBI) challenging termination of his extradition to India.
Salem was shot at by gangster Devendra Jagtap alias JD, an accused in the murder of advocate Shahid Azmi, who had represented 26/11 Mumbai attack accused Faheem Ansari, on June 27. Salem was hit in the hand.
Salem's Portuguese lawyer had earlier this month said he would move the European Union (EU) seeking execution of the order cancelling his extradition to India issued by the Portuguese Constitutional Court.
"We will move the EU. The Portugal High Court, Supreme Court and Constitutional Court had cancelled the extradition (to India). What are the authorities waiting for?" Salem's Portugal-based lawyer Mannuel Ferriera had said.