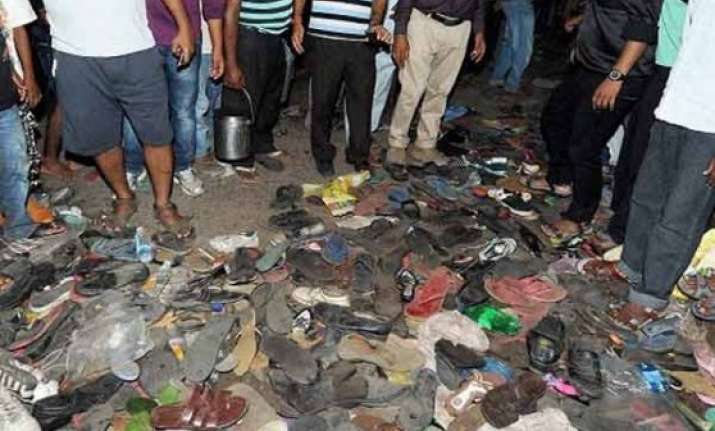 Patna: Two days after the stampede that left 33 dead, the Bihar government transferred four top officials here with effect from October 7.
Those shunted out were Patna Divisional Commissioner N Vijaylaxmi, DIG Patna Range Ajitabh Kumar, Patna District's District Magistrate Manish Kumar Verma and Senior Superintendent of Police (SSP) Manu Maharaj, an official notification said on Sunday.
Vijaylaxmi has been replaced with Tirhut Divisional Commissioner Narmadeshwar Lal. She has been asked to report to the General Administration (GA) Department till further orders, it said.
The state government has also shifted Patna's District Magistrate Manish Kumar Verma and asked him to report to the DA Department till his next posting.
Verma has been replaced with East Champaran District Magistrate Abhay Kumar Singh.
The state government has also shunted out Patna District's SSP Manu Maharaj and replaced him with his Muzaffarpur counterpart Jitendra Rana. Rana's place in Muzaffarpur will be taken by Ranjit Kumar Mishra, who is the SP (Special Branch, Security) at the Police Headquarters.
Patna Range's Deputy Inspector General of Police (DIG) Ajitabh Kumar too has been transferred and replaced with Upendra Kumar Sinha, who is the SP (Railway) in Patna.
Though the latest round of transfers in the police and GA Department is seen as a fallout of the stampede outside the Gandhi Maidan on October three last, the state government remained tightlighted on the development with a senior minister merely saying that transfers have been effected to meet requirements of the state administration.
"Notifications have been issued for transfer of a number of IAS and IPS officials....beyond which I would not like anything to say," Water Resources Department (WRD) Vijay Kumar Chaudhary said.
Atul Prasad, who is presently posted as the Additional Member of the Revenue Board at Patna, has been made the new Muzaffarpur Divisional Commissioner till further orders in place of Narmadeshwar Lal, the notification said.
Jitendra Srivastava, presently posted as the Managing Director of the Bihar State Power Generation Company Ltd at Patna, has been made the new East Champaran District Magistrate in place of Abhay Kumar Singh.