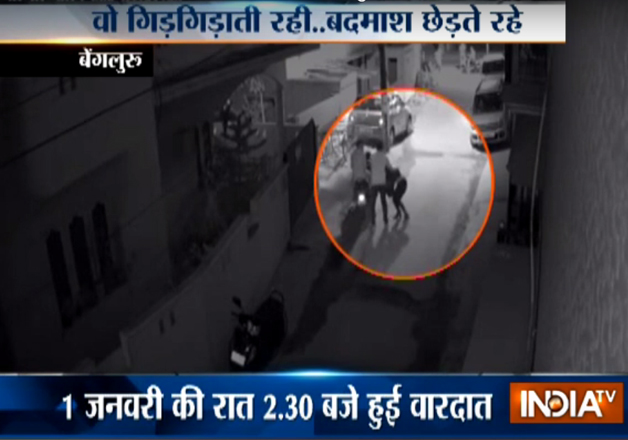 Three days after India's IT capital witnessed shameful incidents of molestation and eve-teasing on the New Year's Eve, a horrifying video footage has emerged showing two men on a scooter blocking a young woman's path, getting off and then groping and molesting her. 
The incident, which occurred at around 2:30 am on Sunday, was recorded by a CCTV camera installed at a house near the Kammanahalli 5th Main Road in east Bengaluru. Shockingly, the woman was groped just 50 metres away from her house. 
In the video, an auto rickshaw can be seen stopping on the road. A girl gets off and runs towards her house, while another is still in the auto, believed to be paying the fare. The second girl then steps out, and starts walking towards her house. 
Suddenly two men zoom past her on a scooter and then return to stop her. One of the riders gets off the scooter and grabs the girl and molests her as she struggles and tries to push him away. The miscreant then drags her to towards his friend, still on the scooter. 
As the girl puts up stiff resistance, the wrongdoers push her to the road and ride away. 
The incident came to light after the residents of the house brought the video to the notice of few media houses and was reported to police.
Meanwhile, the Bengaluru Police, facing flak over its alleged inaction, has now claimed to have found "credible" evidence of molestation and registered an FIR.
Bengaluru's new Commissioner of Police, Praveen Sood through a series of tweets tonight, said his team was working on the case silently.
"As promised we have found credible evidence repeat credible evidence in a case of wrongful confinement, molestation and attempt to rob," Sood had said in a tweet.
"We have taken action by registering an FIR. Investigation is in progress. Police is working.... though silently," he had said in another tweet.
Stating that enquiry is underway by an officer of DCP rank, he has said that they have gone through the feeds from 45 cameras on MG road, and unedited video is available with police.
Eyewitness accounts had suggested that women were molested and groped and lewd remarks were also passed by miscreants late night on December 31 in the posh area even as it was claimed that 1,500 police personnel had been deployed to control the crowds.
Police had earlier said that no one had come forward to file a complaint about the incident.