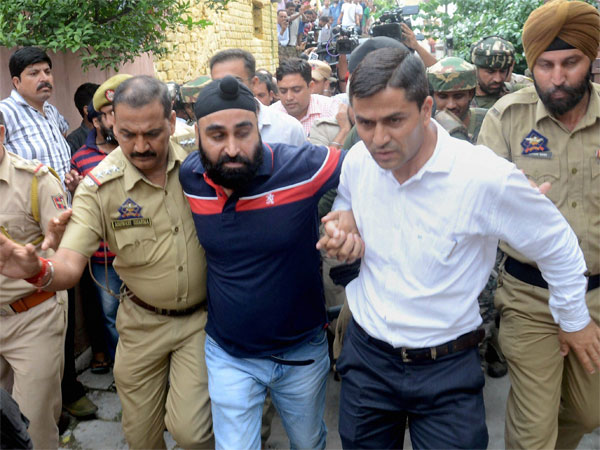 Day after the National Investigation Agency (NIA) detained Devinder Singh Behl, a member of legal cell of Hurriyat and a "close associate" of Geelani, in the Jammu and Kashmir terror funding case, it found that he was allegedly in touch with people in the Pakistan high commission in Delhi and may have leaked national secrets, including information about movement of Indian troops, to the ISI, says a Times of India report. 
"We suspect that Behl, who has been in close contact with people in Pakistan HC, was passing on classified information to alleged ISI moles, putting national security at risk. This is a serious offence and a potential ground to charge him under Section 121 of IPC (waging war against the state)," a senior NIA official was quoted by Times of India as saying. 
During the initial investigation, the NIA found that Behl, who is the chairman of Jammu and Kashmir Social Peace Forum (JKSPF), a constituent of Tehreek-e-Hurriayat headed by Geelani, has been publicly raising pro-azaadi slogans and exhorting Kashmiris not to let the "martyrdom" of militants go in vain. 
Also, in some video clips available on YouTube, Behl can be seen passionately raising 'azaadi' slogans and hailing 'martyrdom' of slain militants at their funerals, with the Pakistani flag visible in the background. 
According to the report, the NIA may soon move ahead for Behl's arrest, who reportedly visited Pakistan at least 5-6 times. 
The NIA is still trying to determine the purpose of these visits. It, however, believes that ISI may have 'cultivated' the Sikh leader in a bid to add weight and legitimacy to Kashmiri separatists' demands.   
While conducting raids in the office and house of Behl, the NIA recovered a detailed protest calendar issued and signed by Hurriyat hardliner Syed Ali Shah Geelani, which shed light on the role of separatists in organising events in coordination with handlers in Pakistan that led to widespread violence in Kashmir. 
The NIA found documents that list dates and when protests and other activities to create unrest were to be carried out in the Valley fooling the encounter of Hizbul commander Burhan Wani on July 8 last year. 
For the the first time since the rise of militancy in Kashmir in the early 1990s, a central probe agency had carried out raids in connection with the funding of separatists and carried out arrests.