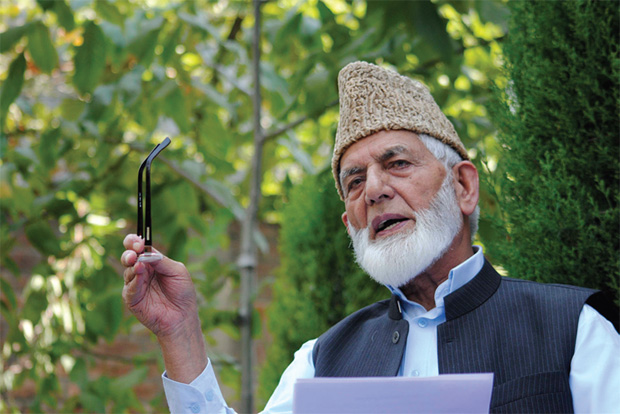 The NIA, in its probe in the terror funding in the Kashmir Valley, recovered a detailed protest calendar issued and signed by Hurriyat hardliner Syed Ali Shah Geelani, which shed light on the role of separatists in organising events in coordination with handlers in Pakistan that led to widespread violence in Kashmir. 
The NIA has found documents that list dates and when protests and other activities to create unrest were to be carried out in the Valley fooling the encounter of Hizbul commander Burhan Wani on July 8 last year. 
The 'protest calendar', recovered from Geelani's son-in-law Altaf Ahmad Shah 'Funtoosh', shows show Hurriyat has fuelled violence in the Valley that led to several deaths and hundreds of injuries in clashes between stone pelters and security forces. 
The protests, listed in the calendar, involved local clerics and separatist cadres as well as activists of opposition parties and were funded by Hurriyat in concert with Pakistani agencies.
The calendar shows that on August 6, 2016, Geelani called for assembling and occupying local chowks and centres in the vicinity of mohallas, villages and localities and playing of Islamic and azadi taranas (songs) in masjids.
The 'protest calendar' marked the activities for August 2016, the month which witnessed maximum number of protests and stone pelting incidents in Jammu and Kashmir following the killing of Burhan Wani. 
On August 8, the activity mentioned was to block all roads towards and around the civil secretariat in Srinagar and tehsil offices and to ensure that no employee was able to join duty. 
Geelani 'directed' that "deputy commissioners have to desist from calling employees over phone and pressurising them to resume duty".
The calendar also called for a 'woman's protest' on August 9 apart from playing azadi songs in masjids. On August 11, the activity mentioned was to issue a poster letter asking all pro-India politicians and their workers including panchs and sarpanchs to resign from their posts. 
Meanwhile, on Sunday, the NIA raided the office and residence of a lawyer linked to Geelani on suspicion of routing funds to separatists from their Pakistan-based handlers. 
The NIA carried out the raids at the office and residence of Devinder Singh Behl, a member of legal cell of Hurriyat and a "close associate" of Geelani. Behl is also the chairman of Jammu and Kashmir Social Peace Forum (JKSPF), a constituent of Tehreek-e-Hurriayat headed by Geelani. He has been detained by the probe agency for questioning in the case related to terror funding in the Valley.
"The NIA is investigating his role as a courier as he is suspected to be involved in routing funds to separatist leaders from Pakistan-based handlers," the spokesman said. Behl also regularly attends the funeral processions of militants, the anti-terror probe agency said.
Four mobile phones, one tablet and other electronic devices were seized during the raid. ANI reported that incriminating documents and financial papers were also recovered from Behl's residence. 
In a related development, the NIA also issued summon to Naseem, the second son of Geelani, who heads separatist conglomerate Tehreek-e-Hurriyat, to appear before the agency on Wednesday.  
The NIA had registered a case on May 30 against the separatist and secessionist leaders, including members of the Hurriyat Conference, who have been acting in connivance with active militants of the HM, Dukhtaran-e-Millat, LeT, other outfits and gangs.
The case was registered for raising, receiving and collecting funds through various illegal means, including hawala, for funding separatist and terrorist activities in Jammu and Kashmir and for causing disruption in the Kashmir Valley by way of pelting security forces with stones, burning schools, damaging public property and waging war against India.
For the the first time since the rise of militancy in Kashmir in the early 1990s, a central probe agency had carried out raids in connection with the funding of separatists and carried out arrests.