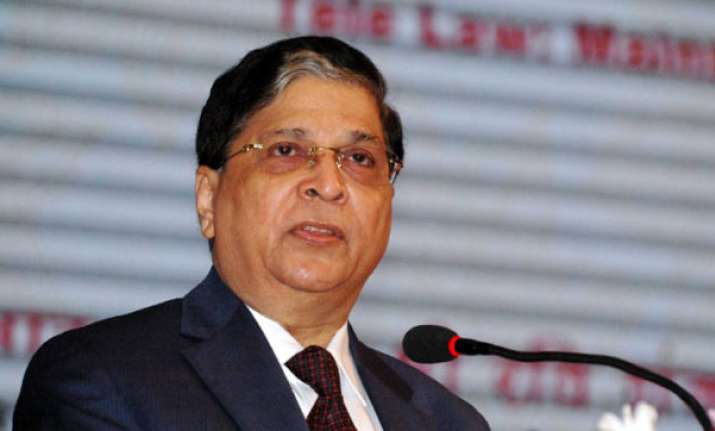 Amid the ongoing crisis plaguing the higher judiciary, the Chief Justice of India (CJI) Dipak Misra on Tuesday met the four dissenting judges – Justices J Chelameswar, Ranjan Gogoi, M B Lokur and Kurian Joseph – during lunch break in the top court, PTI quoted apex court sources as confirming.
CJI Misra reportedly made the move in attempt to resolve the dispute between him and the four senior-most judges. 
The 15-minute long meeting comes  hours after Attorney General K K Venugopal Rao, in a flip-flop, today said that the matter seemed to be unresolved and Supreme Court Bar Association (SCBA) president Vikas Singh hoping it would be settled by this weekend.
Yesterday, the AG and the Bar Council of India (BCI) said that the matter has been "settled" and resolved "internally" and the four revolting judges attending work as usual.
Meanwhile, the Supreme Court on Monday announced the composition of a 5-judge constitution bench headed by the CJI, which does not include the four revolting judges. 
Yesterday, Chief Justice of India (CJI) had met all four revolting judges over tea before the beginning of day's work.
Following the meeting, Attorney General Venugopal said that the crisis has been resolved. 
Terming the developments as 'a storm in a tea cup', he said: "Now everything has been settled. The courts are functioning. It was a storm in a tea cup." 
BCI chairman Manan Kumar Mishra, who led a seven-member delegation and held hectic parleys with 15 judges including the Chief Justice yesterday, told a press conference that all the four top judges have resolved the differences and were attending the court.
In their unprecedented press conference on Friday, the four senior judges of the apex court had mounted a virtual revolt against the CJI, listing a litany of problems, including the assignment of cases. They had also raised questions over listing of PILs concerning Loya's death