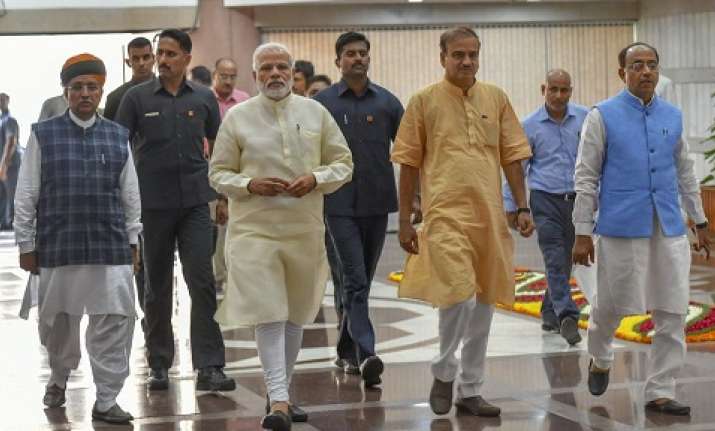 No Confidence Motion in LS today: As the ruling BJP faces the first no-confidence motion in four years, it is making every muscle work to make the Congress repent its decision to seek today's no-trust debate in the Lok Sabha. Even as the Modi government is expected to have a smooth sailing, all eyes will be on fence sitters like the AIADMK and the BJD, followed by the day-long debate where both Prime Minister Narendra Modi and Congress President Rahul Gandhi are likely to speak. 
On the first day of the Monsoon Session on Wednesday, Lok Sabha Speaker Sumitra Mahajan admitted the notices for the motion moved by several opposition parties and asked Telugu Desam Party's Kesineni Srinivas to move his motion. 
"More than 50 members are supporting the motion, so the leave is granted (to bring in no-confidence motion)," Mahajan said while accepting the notice on Wednesday.  During the Zero Hour, she named all members from TDP, Congress and NCP, among others, who had moved similar notices. 
What is No Confidence Motion
A motion of no confidence is a statement or vote which states that a government is failing to carry out obligations, or is making decisions that other members feel are detrimental or is no longer deemed fit to be in power. As a parliamentary motion, it demonstrates to the prime minister that the elected parliament no longer has confidence in the appointed government.
How it works
A motion of no confidence can be introduced only in Lok Sabha, which is the lower House of Parliament. The Speaker admits the motion for discussion when a minimum of 50 members of the House support the motion. If the motion carries, the House debates and votes on the motion. If a majority of the members of the House vote in favour of the motion, the motion is passed and the government is bound to vacate the office.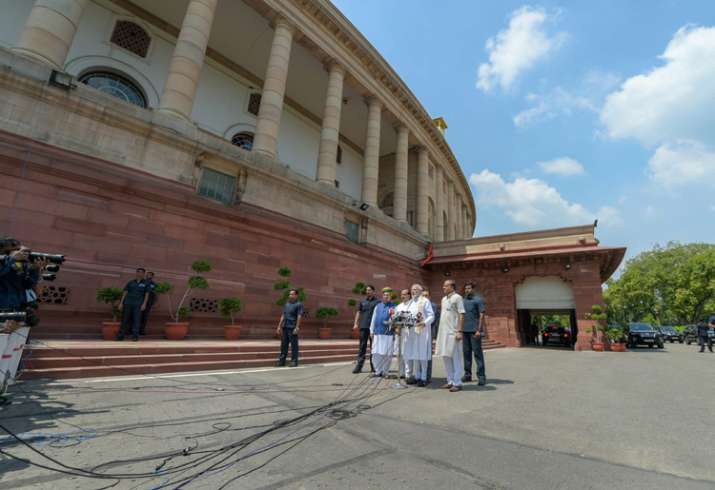 Who moved the first No Confidence Motion in India
Acharya Kripalani moved the first-ever no confidence motion in Lok Sabha in August 1963. It was moved immediately after the India–China War of 1962. 
How many motions of no confidence moved in House till now
Twenty-six No Confidence Motions have been moved till date. Prime Minister Indira Gandhi faced it 15 times, followed by Lal Bahadur Shastri and Narasimha Rao who faced it three times each. Morarji Desai faced it two times and Jawahar Lal Nehru, Rajiv Gandhi, Atal Bihari Vajpayee have faced in once. Prime Minister Narendra Modi is facing it for the first time on Friday. 
All the No Confidence Motions have been defeated except when Prime Minister Morarji Desai resigned during the discussions on 12 July 1979.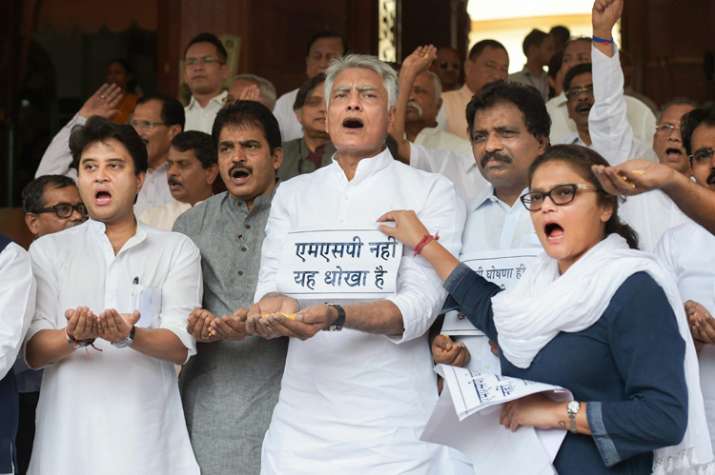 Why did Oppn move Non Confidence Motion against Modi Govt
The Opposition parties have brought the motion against the Modi Government on several issues like special status to Andhra Pradesh, cow vigilantism, mob lynchings, atrocities against women and Dalits and incidents of rapes across the country. 
The opposition's moves for a No Confidence Motion were not allowed in the last Budget Session that was washed out due to continued uproar by MPs from TDP, TRS and some other parties. 
What's next for Government
The Narendra Modi Government has said it is prepared to face the No Confidence Motion brought in by several parties because of enough numbers in the House. 
"The entire country has confidence on Prime Minister Narendra Modi," a Union minister said on Wednesday. 
The Number Game
In a House of 535 members, the Bharatiya Janata Party (BJP) has 274 members (including the Speaker and 2 nominated members) in the 16th Lok Sabha. The total number of parties in ruling NDA is 311 in the lower House.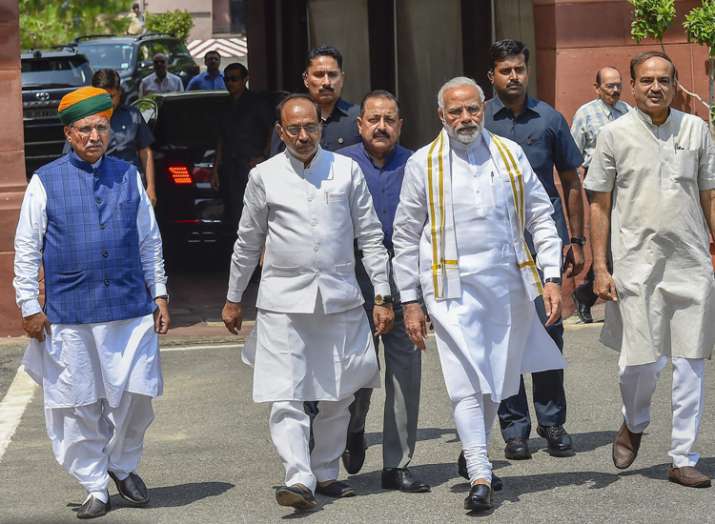 Here is the details of parties' strength in 16th Lok Sabha-
Total Member: 535 (Including House Speaker)
Vacant seats: 10 - 
 1. Anantnag (Jammu and Kashmir )
2. Bellary(ST) (Karnataka )
3. Kadapa (Andhra Pradesh )
4. Kottayam (Kerala )
5. Mandya (Karnataka )
6. Nellore (Andhra Pradesh )
7. Ongole (Andhra Pradesh )
8. Rajampet (Andhra Pradesh )
9. Shimoga (Karnataka )
10. Tirupati(SC) (Andhra Pradesh )
Nominated members: 2 
1. Baker, Shri George (BJP) - West Bengal
2. Hay, Prof. Richard (BJP) - Kerala
Parties likely to vote in the favour of Govt - 
1. Bharatiya Janata Party (BJP): 271
2. Lok Jan Shakti Party (LJSP): 6
3. Shiromani Akali Dal (SAD): 4
4. Rashtriya Lok Samta Party (RLSP): 3
5. Apna Dal (Apna Dal): 2
6. Janata Dal (United):  2
7. Nationalist Democratic Progressive Party: 1
8. National People's Party (NPP): 1
9. Sikkim Democratic Front(SDF): 1
10. Swabhimani Paksha(SWP): 1
11. Pattali Makkal Katchi(PMK): 1
12. All India N.R. Congress(AINRC): 1
13. Shiv Sena: 18                 
The total number of MPs who are likely to vote in fovour of Government stands at 311 in a House of 545 members.
However, Shiv Sena MP Arvind Sawant told news agency ANI that the party MPs have been only asked to be present in the Lok Sabha during no confidence motion and a decision on whether to support or oppose the motion will be taken on Friday only.
"Shiv Sena will work on directions of Uddhav Thackeray Ji. No Confidence Motion hasn't been moved by Shiv Sena, we will see what we have to do tomorrow. We have only been asked to be present in the Lok Sabha tomorrow: Shiv Sena MP Arvind Sawant on No Confidence Motion," he said. 
Parties likely to abstain from voting -
1. All India Anna Dravida Munnetra Kazhagam(AIADMK): 37
2. Biju Janata Dal(BJD): 20
The AIADMK and BJD are likely to abstain from voting during No Confidence Motion in Lok Sabha on Friday. If this happens, the total number of seats will go down from 545 to 488. In this scenario, the new half-way mark will be 244 only as both parties have a total of 57 members in the House. 
Parties for No Confidence Motion against Govt - 
1. Indian National Congress (INC): 48
2. All India Trinamool Congress(AITC):   34
3. Samajwadi Party (SP): 7
4. Aam Aadmi Party (AAP): 4
5. Nationalist Congress Party (NCP): 7
6. Telugu Desam Party (TDP): 16
7. CPI(M): 9
8. Rashtriya Janata Dal (RJD): 4
9. Jharkhand Mukti Morcha (JMM): 2
10. CPI: 1
11. National Conference: 1
12. Janata Dal (S): 1
13. Rashtriya Lok Dal (RLD):         1
The total number of MPs for the No Confidence Motion stands at 135.
However, ahead of the debate on the No Confidence Motion in Lok Sabha on Friday, trouble seems to be brewing in the Telugu Desam Party as party MP from Anantapuramu JC Diwakar Reddy has said he would continue to stay away when the no-trust motion on Friday.
Jan Adhikar Party (Loktantrik) leader Pappu Yadav, who is a Member of Parliament from Madhepura,  was expelled from RJD in 2015.
If JC Diwakar Reddy and Pappu Yadav decide to abstain or vote against the motion, the strength of opposition parties will go down to 133.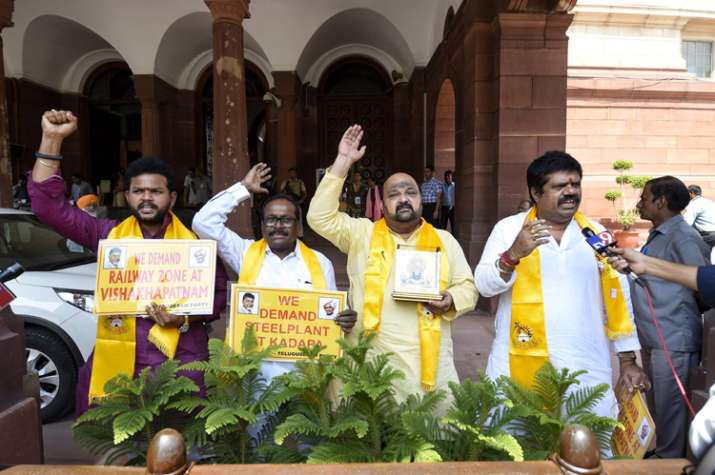 Parties not yet cleared their stand on No Confidence Motion -
1. YSR Congress Party:   4
2. Independents: 3 
3. Indian Union Muslim League (IUML):  2
4. Peoples Democratic Party (PDP): 1
5. Revolutionary Socialist Party (RSP): 1
6. All India United Democratic Front(AIUDF): 3
7. Indian National Lok Dal (INLD): 2
8. All India Majlis-E-Ittehadul Muslimeen (AIMIM): 1
9. Telangana Rashtra Samithi (TRS): 11
Total number of MPs belonging to these parties is 28.
Modi Govt vs Oppn: Who will be at advantage
The full-day debate on No Confidence Motion will start in Lok Sabha at 11am on Friday. The discussions will go on for six or seven hours with Prime Minister Narendra Modi as the last speaker who's reply may be his veritable campaign launch of 2019 Lok Sabha elections.
At the same time, the Opposition parties will try to portray their united picture to convey a message to the ruling alliance as well as the people of India that nearly all non-NDA parties are against the Narendra Modi government. The opposition leaders are likely to speak and corner the NDA government on a host of issues like price rise of essential commodities, fuel price hike despite low crude oil rate in international markets, mob lynching cases, Jammu & Kashmir issue, foreign policy, battle of power (Govt vs L-G) in Delhi, increase in deposits by Indians in Swiss banks, impact of GST and demonetisation, PNB scam, fleeing of economic offenders from India, atrocities on Dalits, security of women and incidents of rapes across the country etc.
Congress President Rahul Gandhi has also announced that he will speak during No Confidence Motion in Lok Sabha on Friday.
Watch: Stage set for no-trust vote against Modi govt on Friday
But, all eyes will be on the speech by Prime Minister Narendra Modi as he might use his speech to highlight the weaknesses of the opposition parties and to portray the Congress as a communal party in the wake of controversy over Rahul Gandhi's alleged statement that Congress is a Muslim party. He might use the No Confidence Motion debate to describe the works done by his government in last four years which his party claims that changed the life of poor people in rural India.
As per the existing numbers in 16th Lok Sabha, the NDA would comfortably defeat the No Confidence Motion in Lok Sabha. However, the BJP will try to paint opposition parties as an opportunistic alliance which has no common agenda and ideology other than removing Narendra Modi from the post of prime minister. The speakers from the NDA will try to highlight the issues of previous UPA governments to compare the pace of development with works done in last four years of Modi government.
PM Modi's speech in a televised debate always attracts eye-balls and he also will leave no stone unturned to take an advantage and send a message to opposition that he is still unbeatable.
Log on to www.indiatvnews.com for Live Coverage, Updates and analyses on No Confidence Motion in Lok Sabha on Friday. Follow us on Twitter @indiatvnews
(This disclaimer informs readers that the opinions expressed in the article above does not necessarily represent the views of India TV Editorial Team. India TV is not responsible for the content in this article. Follow the author on Twitter @pratyush_ranjan)