Follow us on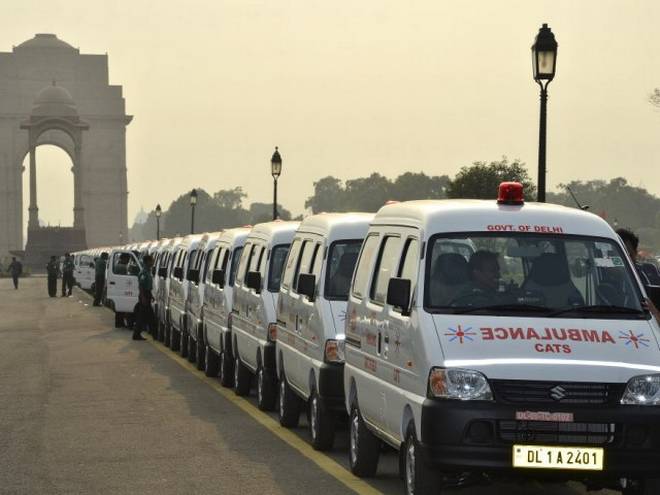 With nearly a fifth of the CATS ambulances still out of action, officials on Wednesday blamed "ill-maintenance" as a factor for the situation, even as the company operating it said the "ageing vehicles" in the fleet should be replaced to bolster the critical emergency response service.
The Delhi Government's Central Accident and Trauma Service (CATS) ambulance, a critical emergency response service is struggling with delays, lack of equipment and poor maintenance, forcing nearly 50 of its 265-strong fleet to go off the roads.
The crisis is affecting medical services for people, prompting the National Human Rights Commission (NHRC) to issue a notice to the Delhi government.
The notice sent through the chief secretary has sought a detailed report, within four weeks, on the depleting fleet of CATS ambulances and the steps taken in this regard by the government to make the services accessible to the common citizens by ensuring full operation of the entire fleet.
In 2016, the city government had partnered with the BVG UKSAS EMS Pvt Ltd to run the fleet. Of the 265 ambulances in total, 31 were acquired during the Commonwealth Games in 2010, a senior CATS official said.
Nivedita Patnaik, the head of operations of the BVG UKSAS EMS Pvt Ltd, claimed that the bad state of affairs was due to non-payment and fund crunch, adding that Rs 40 crore was due to it from the government.
The senior CATS official, however, claimed that "all payments have been done to the company as per the norms of the tender" under which the firm was selected.
"We do not have funds, so maintenance will suffer. But, we are still tying to run the service in constrained conditions. Of the 265 ambulances, 31 were purchased in 2010, about 110 last year and rest during the intervening period," Patnaik said.
"Before running an ambulance, its road-worthiness has to be ensured, and these 31 vehicles have aged and need to be replaced. Also, 265 vehicles are not sufficient for a city like Delhi, more so, when many of these vehicles are deployed during public rallies and events," she said.
The CATS official, however, countered her argument, saying the company should first try to keep its existing fleet in order than asking for more.
"They (firm) are not maintaining the ambulances properly by getting them services appropriately, hence the maintenance issue has arisen," he alleged.
The situation has affected people in the city, with the NHRC observing that it would definitely cause irretrievable damage to patients, if on call, the services of CATS ambulance could not be provided to them.
"The difference, if any, between the government and the company in question, who is responsible to run the CATS ambulances may be addressed at the earliest to ease the services of CATS ambulances to the citizens of the national capital, keeping in mind emergency services of such vehicles," the rights panel said Tuesday.