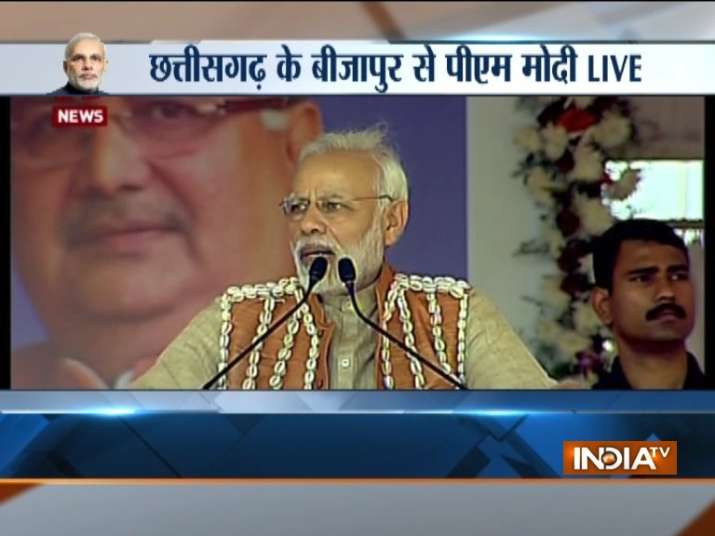 Prime Minister Narendra Modi inaugurated India's first wellness centre under the ambitious Ayushman Bharat scheme in Bijapur on Saturday.  Ahead of PM Modi's Bijapur visit, the Maoists attacked a Central Reserve Police Force (CRPF) camp in Doranpul and destroyed two barracks. There were no injuries in the attack.
The prime minister's visit to Naxal-hit Bijapur comes days after two security personnel were killed and five injured when an improvised explosive device (IED) ripped through a bus in which they were travelling to Jangla area.
PM Modi also unveiled several pro-poor schemes in the Maoist-affected, low-literacy district on Dalit icon BR Ambedkar's 127th birth anniversary. 
HIGHLIGHTS:
2:15 pm: Chhattisgarh has witnessed rapid  development since the BJP government was sworn in. There were only two medical colleges then, I was told that the state now has 10 medical colleges: PM Modi. 
2:10 pm: If Bijapur can see development in 100 days then why can't the other districts witness the same? I came here to assure you that with all the development projects now Bijapur district will no longer be known as a backward district: PM Modi
2:00 pm: I have come here to tell you that your government at the Centre will support all your aspirations: PM Modi.
1:56 pm: If a person like me is the PM of this country then it is also due to BR Ambedkar's efforts, says PM Modi.
1:51 pm: I am lucky to be here among you all on the occasion of birth anniversary of Baba Bhimrao Ambedkar: PM
विकास की दौड़ में पीछे छूट गए और पीछे छोड़ दिए गए समुदायों में आज जो चेतना जागी है, वो चेतना बाबा साहब की ही देन है। एक गरीब मां का बेटा, पिछड़े समाज से आने वाला आपका ये भाई अगर आज देश का प्रधानमंत्री है, तो ये भी बाबा साहेब की ही देन है: PM

— PMO India (@PMOIndia) April 14, 2018
1:50 pm: I salute our jawans of security forces who have been working hard for the development of the region, says PM Modi.
1:48 pm: PM Narendra Modi speaks at the launch of health and wellness centre in Bijapur.
1:20 pm: Prime Minister Narendra Modi launches India's first wellness centre under Ayushmaan Bharat scheme in Bijapur.
#Chhattisgarh: Prime Minister Narendra Modi at the launch of India's first wellness centre under Ayushmaan Bharat, in Bijapur pic.twitter.com/IViuae6j4u

— ANI (@ANI) April 14, 2018
11:02 am: PM Modi arrives in Chhattisgarh's Jagdalpur.
Prime Minister Narendra Modi arrives in #Chhattisgarh's Jagdalpur. pic.twitter.com/VJqTxatuvQ

— ANI (@ANI) April 14, 2018
11:00 am: Modi will visit the Jangala Development Hub in Bijapur and will dedicate to the nation the Bhanupratappur-Gudum railway line via video conference and will also flag off a train between Dalli Rajhara and Bhanupratappur.
10:50 am: The prime minister will also inaugurate a dialysis centre at the Bijapur Hospital and a Health and Wellness Centre, marking the launch of the Union government's ambitious health insurance programme Ayushman Bharat.
10:43 am: "The prime minister's choice to launch his most ambitious programme of Ayushman Bharat from the tribal district that is counted among the most backward districts of the country and that too on the birth anniversary of Ambedkarji is very significant," Dinesh Kashyap, BJP MP from Bastar, told IANS.
10:38 am: Modi will also launch the Van Dhan Yojana which aims at empowering tribal communities.
10:33 am: Besides these, he will lay the foundation stone for the construction of 1,988 km of Pradhan Mantri Gram Sadak Yojana roads and other road connectivity projects in Left Wing Extremism areas, water supply scheme of Bijapur and two bridges.
10:28 am: Modi will also interact with people, including emerging sports persons and officials of the district administration, who despite all odds are trying to bring the district on top of the map of most emerging backward districts of the country.
10:25 am: PM Modi will become the first prime minister to visit Bijapur while this will be his fourth visit to the state since he took office in 2014.