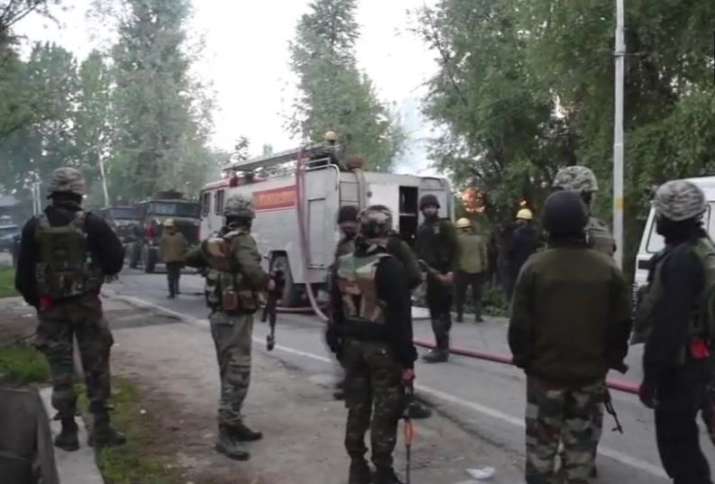 Security forces gunned down four terrorists, including the chief of Islamic State Jammu and Kashmir (ISJK), in an encounter in south Kashmir's Anantnag on Friday. A policeman was martyred and two civilians suffered injuries in the gun battle which broke out at Srigufwara sub division in the early hours between militants and security forces. While confirming that the militants belonged to ISJK,  J&K DGP SP Vaid said bodies of the four terrorists were recovered from the site.
"Four terrorists have been killed in the encounter at Srigufwara and their bodies have been recovered,"DGP Vaid said.
Terrorists reportedly affiliated to ISJK.

— Shesh Paul Vaid (@spvaid) June 22, 2018
Intelligence report said that at least four ISJK terrorists were believed to be trapped in the area. The militants were identified as Dawood (top ISIS commander), Adil, Majid and Khalid, intelligence sources said. 
Police said security forces laid a cordon around Srigufwara village following specific information about the presence of militants there.
"As the security forces tightened the cordon around hiding militants, they fired, triggering an encounter which is underway,"  news agency IANS quoted a police officer, as saying.
J&K: After imposition of Governor's rule, 'Black Cat' commandos to be now deployed in counter-terror operations
Security forces have upped the ante against terror groups in Jammu and Kashmir after the government decided not to continue the ceasefire that it had announced for the month of Ramzan. The month-long ceasefire witnessed an increase in terror-related incidents in the Valley.
Noted journalist Shujaat Bhukari was killed right outside his office in Srinagar on the eve of Eid. On the same day, an India Army jawan - Aurangzeb - was abducted and killed by terrorists. The soldier's bullet-ridden body was found at Gusoo, Pulwama. The two incidents played a major role in government's decision to not to continue the ceasefire against terrorists.
Watch: Three ISIS terrorists gunned down in Anantnag
(More details awaited)