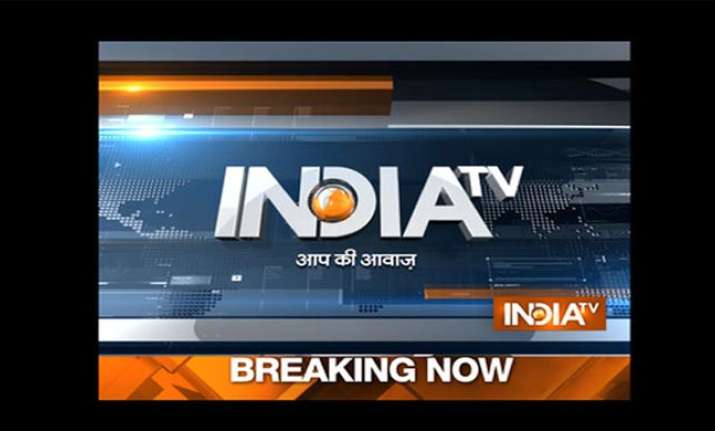 National News
Jayalalithaa still on life support, says Apollo hospital; AIADMK gets into huddle to plug leadership void
Tamil Nadu Chief Minister J Jayalalithaa, who had a cardiac arrest yesterday, remains in a "grave situation" despite the "best efforts", Apollo Hospital said today.
Jayalalithaa critical; AIADMK picks Panneerselvam as interim CM, Sasikala as party chief, say sources
As Tamil Nadu Chief Minister J Jayalalithaa remains in "grave situation," AIADMK MLAs today met at the Apollo Hospital in Chennai where the party chief has been housed for the past two months.
INS Betwa tips over during undocking in Mumbai, two Navy personnel missing
Two Indian Navy personnel are missing after INS Betwa, a guided missile frigate, today tipped over during undocking at Naval Dockyard in Mumbai.
With Tamil Nadu on high alert, US issues advisory to its nationals
The US Consulate General in Chennai has suspended appointments for routine services to US citizens and visa applicants in the wake of developments after Tamil Nadu CM's cardiac arrest.
Higher investments to drive five-fold growth in India's economy by 2040: PM
India's economy is expected to witness a five-fold grow by 2040 owing to increase in investments, Prime Minister Narendra Modi said, adding that the government expects growth in manufacturing, transport and civil aviation among other sectors.
International News
Day after terror rebuke, Pakistan approves financing for dam that India is opposed to
In a move that may appal India, Pakistan today agreed to finance the Diamer-Basha dam, a gravity dam on the Indus river in Gilgit-Baltistan's Diamer district.
New Zealand Prime Minister John Key announces surprise resignation, says 'It's the right time for me'
New Zealand's popular Prime Minister John Key stunned the nation on Monday when he announced his resignation saying it was the "right time" to leave politics after more than eight years in power.
Italy's Prime Minister Matteo Renzi announces resignation after crushing referendum defeat
Italy's Prime Minister Matteo Renzi announced early today that he would be stepping down after losing a referendum on constitutional reform.
Business News
Payouts above Rs 5,000 only through electronic mode, Centre directs govt departments
In a bid to promote cashless transactions and bring transparency in dealings of government departments, the Centre on Monday said that any payment above Rs. 5,000 to should be made through electronic mode only.
WhatsApp to stop running on older smartphones by month end: All you need to know
It is time to look at your smartphone, not to check a message or email but how old it is. According to media reports, popular messaging app WhatsApp will stop working on millions of smartphones by the end of 2016 unless they are upgraded.
Demonetisation effect? Service sector activity plunges after 16 months
The huge cash crunch in the country has resulted in weakening of India's service sector this November, ending a 16-month sequence of expansion.
Entertainment News
WATCH: Trailer for 'The Mummy' remake featuring Tom Cruise is out and it takes the scare quotient a notch higher
After releasing the teaser last week, the makers have finally released the trailer for 'The Mummy' remake, starring actors Tom Cruise and Sofia Boutella, and it's damn scary!
We are scared of Katrina, admit Parineeti & Aditya on Karan Johar's show
Television chat show 'Koffee With Karan Season 5', hosted by well known film maker-producer Karan Johar, is topping headlines these days owing to some stunning revelations by various Bollywood celebrities.
Will definitely work with Salman Khan again in a film: Shah Rukh
In good news for SRK-Salman fans eagerly waiting to catch the two Khans together in a film, superstar Shah Rukh Khan has said that he and Salman Khan can definitely work together provided the film had a good script.
Sports News
Supreme Court defers hearing on BCCI vs Lodha panel to December 9
The Supreme Court will now hear the ongoing dispute between the Board of Control for Cricket in India (BCCI) and the Lodha panel on December 9.
'India are big favourites in Hockey World Cup', says German coach
Germany's junior hockey team coach Valentin Altenburg today said that hosts India will be one of the contenders to win the FIH Junior World Cup set to begin here on December 8.