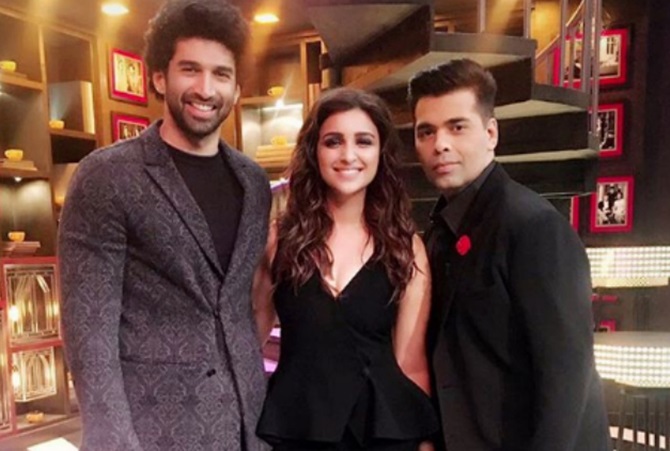 Television chat show 'Koffee With Karan Season 5', hosted by well known film maker-producer Karan Johar, is topping headlines these days owing to some stunning revelations by various Bollywood celebrities.
The latest to grab headlines are actress Parineeti Chopra and her buddy Aditya Roy Kapur.
The 28-year-old actress, who is known for her chirpiness, was a laughter bomb on the couch and had, in fact, some surprising admissions to make.
During the show, both Parineeti and Aditya admitted that they were scared of Katrina. The actress even cites a funny episode that took place during the Dream Team Tour in the US this year. 
The two were in the same Dream Team tour.
"Apparently, it is Katrina's straight-faced expressions and, at times, a serious demeanour that leaves Parineeti petrified of her. During the Dream Tour, if someone made a joke, Kat would rarely join in and remain poker-faced throughout. But it was she who ensured that Pari exercised on a daily basis, often asking the latter to join her for a workout. Some days Pari would want to do other things, but was too scared of Katrina to tell her so," a leading newspaper quoted Parineeti as saying.
 The show which began in 2004 is a huge success for its scandalous questions, controversial answers, headline making revelations, witty rapid fire rounds and playful conversations.
Meanwhile speculations are rife that Katrina, post her break with Bollywood's heartthrob Ranbir Kapoor, is dating her 'Fitoor' co-star Aditya.
The duo were even spotted together in Mumbai several times.