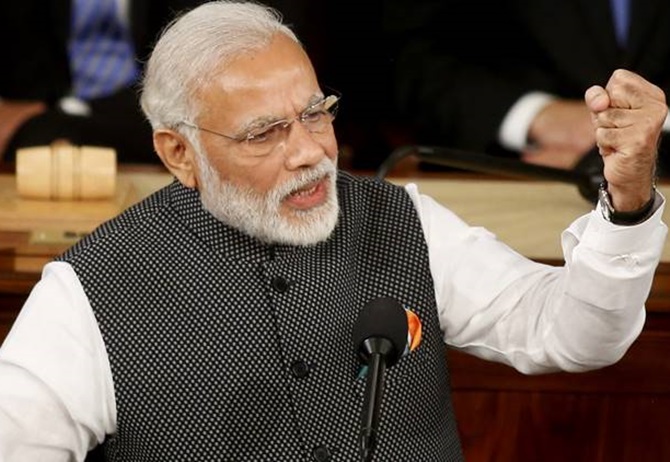 India's economy is expected to witness a five-fold grow by 2040 owing to increase in investments, Prime Minister Narendra Modi said, adding that the government expects growth in manufacturing, transport and civil aviation among other sectors.
Modi, while inaugurating the 12th international oil and gas Confrence 'Petrotech-2016' in Delhi, said that while global economy is going through uncertainty, India has shown tremendous resilience. 
"Indian economy is more stable than others with investment in India at the highest levels. The country's current account deficit has improved steadily," PM Modi said.
Sharing his plans to attain higher growth, the Prime Minister said his government is giving importance to improve infrastructure with highest priority to rail connectivity. The government is working on projects like dedicated freight corridor, Sagarmala highways and inland waterways shipping projects. 
"Government aims to provide electricity to all by March 2018, piped natural gas connection to 10 million and pipeline network to 30,000 km in 5 years," PM said while emphasising sustainable, reasonably priced energy is crucial for development.
Further sharing his views on increasing domestic oil and gas production, PM said: "The government is working on plan to decrease dependence on oil imports by 10 percent by 2022."
While extending invitation to foreign companies to invest in Indian oil and gas sector, Modi said: "My message to global hydrocarbon companies is come and Make in India. Our commitment is strong and our motto is to replace Red Tape with Red Carpet." 
The theme of the Conference is Hydrocarbons to fuel the future - Choices and Challenges.
The Petroleum and Natural Gas Ministry has said that the conference aims to explore areas of growth in petroleum technology, exploration, drilling, production and processing, refining and other related issues.