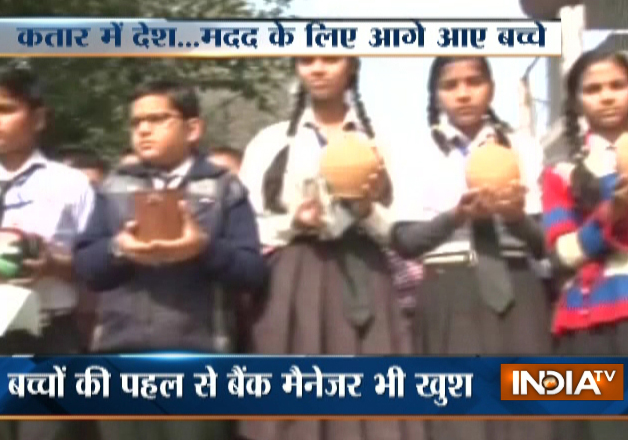 Amid countrywide chaos and opposition parties protesting over central government's demonetisation move, school kids in Uttar Pradesh's Hardoi district have come forward to help the banks facing problems due to non availability of enough small denomination of notes.
School children at Hardoi, who had saved money in small denomination notes and coins came out and donated the same to a bank in the city to help people facing hardship due to demonetisation policy.
In total, they have donated a sum of Rs 73,000 from their piggy banks to Vijaya Bank.
When asked why they sacrificed their small savings, kids said that since people are facing trouble due to demonetisation, they decided to help them by providing smaller currency notes from piggy banks.
The bank, while welcoming this touching gesture of school children, appealed to other schools, people and temples to come forward and extend a helping hand to banks across the country.
The move comes at a time when chaotic scenes were still seen at banks and ATMs as people queued up for hours to get valid currency notes to meet their daily expenses.