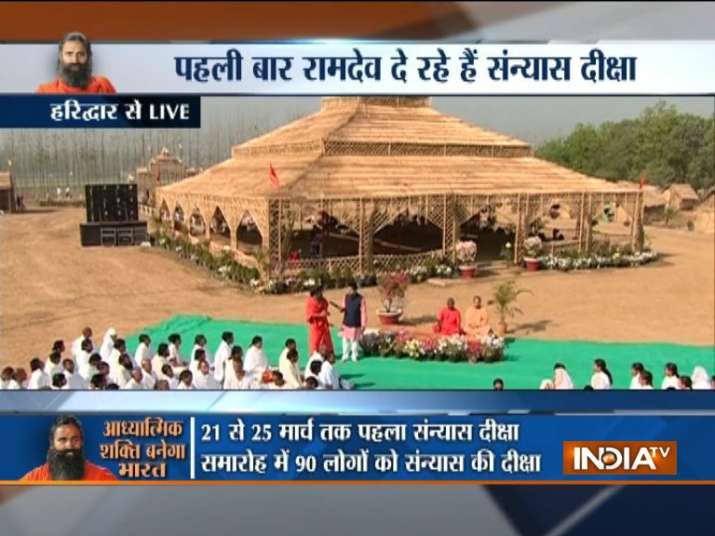 Yoga guru Ramdev is all set to launch a new initiative to make India a spiritual superpower. 
The yoga guru told India TV that he aims to give "deeksha" to 1,000 sanyasis under this initiative. 
Baba Ramdev said that he will launch the new initiative on Ram Navami by giving "deeksha" to the first batch of 90 sanyasis. 
A special "rishigram" has been constructed for these sanyasis at Haridwar-based Patanjali centre, according to Baba Ramdev.
Baba Ramdev further said that all these sanyasis have been imparted education under his guidance and that they will act as his heirs. 
The yoga guru claimed that these sanyasis have been imparted education in various subjects like Vedas, Puranas, Upnishads etc. 
"They will work for the betterment of the country, society, spirituality and the Hindu religion," Baba Ramdev said.
Baba Ramdev told India TV that his aim is to make India spiritual superpower by 2050.
The yoga guru disclosed that the main responsibility of these sanyasis is to open hundreds of vedic schools all across the country in which around 1 crore children will be imparted education.
"These sanyasis will also execute charity works worth Rs 1 lakh crore. Not only that, with the help of these sanyasis, world's largest university will be set up which will have capacity to accommodate 1 lakh students," Baba Ramdev said. 
Baba Ramdev added that these sanyasis come from every section of the society. 
"The first batch of the sanyasis has 51 males and 39 females," he added.
Watch: India TV exclusive show | Baba Ramdev to give 'deeksha' to 90 religious scholars