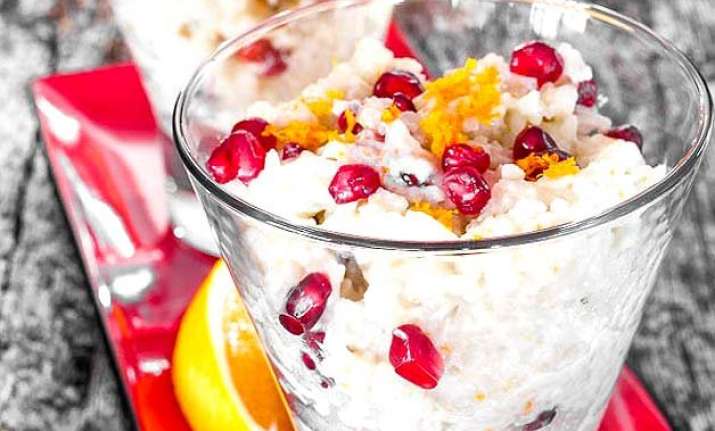 Kids' special recipe: Fruity curd rice
New Delhi:
Crackling down summers is not easy. However, keeping your day fresh and rejuvenated is not that difficult too. And when you have a great amalgamation of something to savour that is both equally salty and sweet, you just can't resist beating that heat.
In order to enhance your craving to make this summer deliciously fresh for you, here follows a quick recipe for making 'fruity-curd rice'. Take a look!
Note: The recipe serves as a brilliant easy-to-make food item for kids
Ingredients:
Rice - 1 bowl
Milk - 1 bowl
Curd - 1 bowl                                                    
Sugar - 1 tablespoon
Chopped almonds - 2 tablespoon
Oil - 1 tablespoon
Chopped green chillies - 2
Salt - 1 or 1 1/2 tablespoon
Mustard seeds - 1 tablespoon
Coriander leaves - 1 tablespoon
Fruits (grapes, cherry, pomegranate) - 1/2 bowl
Method:
1. Boil the rice and mix sugar and salt together with it.
2. Once both salt and sugar gets mixed with rice, pour milk and curd and mix the entire thing thoroughly.
3. Add fruits and again mix well.
4. Pour oil in a pan and roast the mustard seeds till they start crackling down and turn slight brown.
5. Turn off the gas and mix rice made above with the oil prepared now.
6. Once entirely mixed, sprinkle coriander leaves and enjoy the sweet-salty fruity curd rice with your kids.