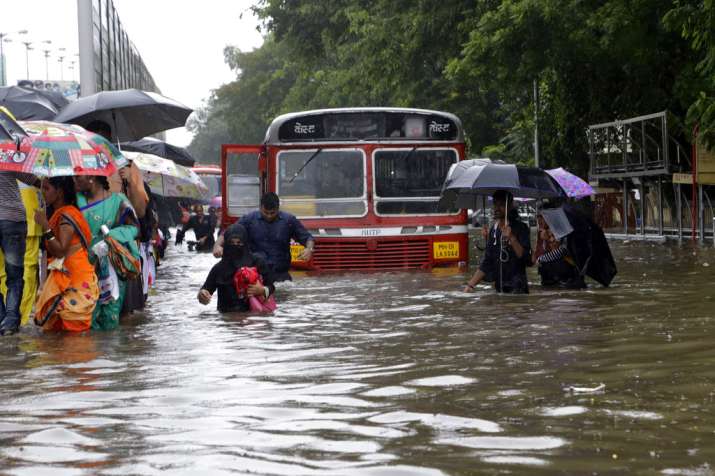 The torrential rains in Mumbai have brought the financial capital of India to a standstill on Tuesday. The flooding streets, gushing rainwater and transport chaos have left the Mumbaikars helpless and stranded. A dozen of flights and trains have been cancelled bringing the normalcy in the city to halt. However, the city is crawling back to life, but still, you've got to be very careful while stepping out of the house. Here's what you can do to keep yourself and your loved ones safe. 
Keep your mobile, laptop charged 
Power failure for long hours is normal to happen. It's better that you prepare yourself for it. Don't use your smartphone unnecessarily. Keep it charges and if you have a powerbank, charge it to the full for emergency use. 
Stash some biscuits and water with you 
Keep some packets of biscuits and water bottles with you. You never know when you might need them. 
Keep your family informed about your whereabouts 
While leaving the house, make sure you inform your family about the route you're taking and place you're headed to. In case you're stranded, your family can help you get the needed help. 
Also Read: Mumbai Rains: Lara Dutta uses Grand Slam towels to block seeping rainwater, husband Mahesh Bhupathi fumes
Carry an umbrella, gumboots and winbreaker with you.
It's risky to walk in the flooded water without gumboots. The dangerous insects in the water can add t o your trouble. 
#MumbaiRains : It is dangerous to swim/walk through flood waters. pic.twitter.com/4bZ9UWf2Wt

— NDMA India (@ndmaindia) August 30, 2017
Use only public transport if possible 
If you're all by yourself during the heavy rains, use a public transport. They're safer as compared to your personal car as there are a lot of other people as well. 
Avoid going to beaches 
It can be really tempting to explore the beaches during the rain. But this single mistake can cost you your life.  
Keep your electronics and money in a plastic bag 
Keep all your electronic items and cash in a plastic bag. Even if you're keeping them inside your bag, wrap them in a plastic bag for extra precaution. 
Also Read: Rain fury in Mumbai: No 'dabbawala' service in city today
Do not seek shelter under a tree 
If you're stranded in the rains, seek refuge in a public place like temple, railway station, church, etc. Do not stand under a tree. Tree is more vulnerable to get struck by lightning than anything else. 
NDMA shared some tips on how to save yourself from high-speed flowing water. Check it out: 
#MumbaiRains : Learn How To Save Yourself In A High-Speed Water Flow (#Floods).https://t.co/i3QGjayoa8

— NDMA India (@ndmaindia) August 30, 2017
#MumbaiRains : Do not drive through flooded areas. Keep phones charged for #emergency communication.Use SMS. pic.twitter.com/jJw7Cxod0m

— NDMA India (@ndmaindia) August 30, 2017
#MumbaiRains: Follow these basic Do's to ensure safety. Be smart, be safe. pic.twitter.com/ZTIRWxWc1u

— NDMA India (@ndmaindia) August 30, 2017
For more Lifestyle stories, follow our Facebook page.