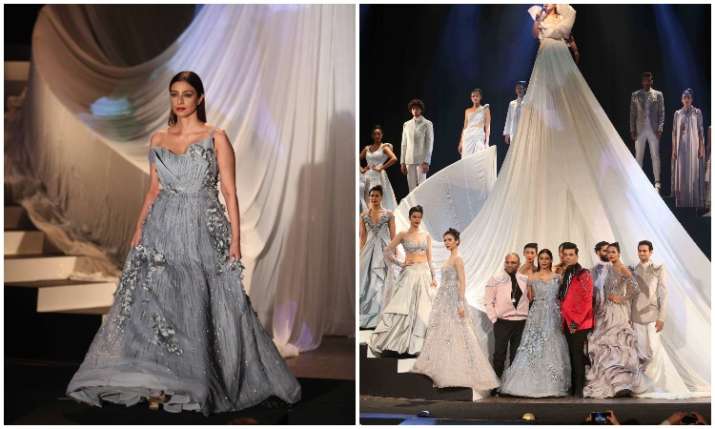 Lakmé Fashion Week Summer/Resort 2019 edition opened with a bang at the iconic venue of Royal Opera House, Mumbai. Designer Gaurav Gupta made a comeback to Mumbai runway after four years and he roped in Tabu and Karan Johar. The designer made his comeback memorable by not just impressing everyone with his splendid collection but also presentation. Gaurav collaborated with his friend Navkirat Sodhi, who is a poetess, to make the grand opening, an event to remember.
Dressed in a 20-feet gown, Sodhi recited her poems as models walked down the ramp. While show opener Tabu made her entry in powder blue gown that had intricate chinkari work on it, the showstopper filmmaker Karan Johar was dressed in black shirt and bottoms, paired with a red blazer that had heavy silver and black embellishments on the shoulders.
Talking about Tabu and Karan, the designer said, ''Tabu is the most phenomenal actress we have in this country. She is an artist who is so talented and is a timeless beauty. She is an individual, she is herself. That is why she was my perfect muse as she has always been breaking rules and living by her own rules and setting new cultural definition. I resonate with that part''. About Karan, he said, ''Karan is a powerhouse. The way he is, the kind of films he makes and his personality is perfect for a Gaurav Gupta man''.
On the other hand, Tabu said that Gaurav's style resonates with her and she was really excited to walk the ramp for him. Karan, who went emotional walking the ramp at the venue said he loves the drama and edginess that Gaurav's designs have.
He also went down the memory lane and said, ''This is very emotional moment for me. I have so many memories of watching movies in this particular space. Royal Opera House is where I have come as a child several times, watched movies, and I can't believe that this has now transformed into this hugely iconic space. Just walking the ramp in this particular place makes me feel like life is completing an entire circle''.
The fashion show will be held till February 3 at the Jio Garden, Bandra-Kurla Complex in Mumbai. Check out pictures below: