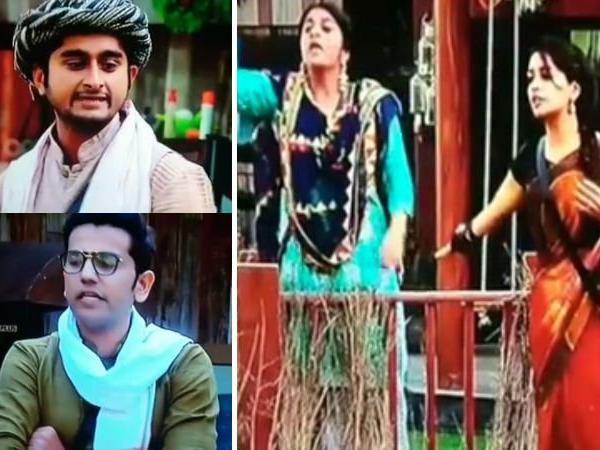 99With its aggressive tasks, nasty fights and romantic angles, Bigg Boss never fails to entertain the audience. Salman Khan's hit reality show is in its 12th season and the housemates are doing their best to make it through the week. What caught our attention in last night's episode was an ugly spat between two contestants, who once made a very strong jodi, Romil Chaudhary and Surbhi Rana.
In tonight's Bigg Boss 12 episode, the house will be divided into two teams--Team Dipika consisting of Romil, Sreesanth, Megha and Team Deepak with Rohit, Karanvir and Surbhi as members. Deepak and Dipika will be the mukhiya of their teams and Jasleen and Somi will be the sarpanch.
#BiggBoss12 ke ghar mein aaj hogi BB Panchayat #SurbhiRana ka faisla karne! Tune in tonight at 9 PM for all the tamasha. #BB12 @iamappyfizz @oppomobileindia @TheGarnierMan @letsdroom pic.twitter.com/aUulmgmKlQ

— COLORS (@ColorsTV) November 27, 2018
Here are the Highlights for Bigg Boss 12 November 27 Episode
10: 00 PM: Karanvir tells him teammates that they have to target Megha in tomorrow's luxury budget task.
9: 50 PM: Somi tells Surbhi that Romil is really upset and crying. Romil gets emotional and tells Jasleen that his character is always clean and he never ever stared at Surbhi. Surbhi tells Romil that he should forget about the whole scenario and says that even he has done a lot of things in the past that weren't presentable. 
9: 40 PM; The BB luxury budget task for the day is over.
9: 35 PM:  Dipika targets Rohit and says that he is the most disrespectful and il-mannered in the Bigg Boss 12 house. 
9: 30 PM:   Dipika and Deepak get into a big fight. Deepak and team win the case. Jasleen hits out at Romil and tells her that he is no one to judge her or tell her how to play Bigg Boss home.
9: 25 PM:  Dipika targets Romil calling him double-faced. Dipika targets Rohit calling him disrespectful. Sarpanch decides to go with Deepak's case.
9: 20 PM: Rohit and Jasleen lock horns. Rohit gets aggressive as Romil accuses him of throwing coffee deliberately. Surbhi accuses Romil of staring at her. Rohit says sorry to Jasleen and Somi.
9: 15 PM: After hearing out from both the teams, the sarpanch deliberate about their final decision. Dipika wins the case. Surbhi discusses about the decision with her teammates and says that the decision was just unfair. 
9: 10 PM: Dipika targets Surbhi calling her fake. Meanwhile, Deepak targets Romil. The sarpanch selects Dipika's case who call out Romil as her witness. 
9: 05 PM:  Karanvir reads out the luxury budget task for the week titled BB Panchayat. Everyone has to dress up as per their characters assigned to them. Deepak and Dipika are tasked to present their cases and make allegations against the contestants of the opponent team and argue why they are not suitable to stay in the Bigg Boss house. Somi and Jasleen are required to select the strongest allegation amongst them and call the contestants for a trial. Based on the argument presented by both the team, the sarpanch will get to decide whose argument is the strongest and declare the winner.
9 PM:  Housemates wake up Desi girl song. Somi discusses about Romil with Surbhi and tells her that when he came to apologize to her she told him to go away. Surbhi teases Deepak with Somi. Romil tries his best to patch things up with Somi but she opts to ignore him altogether.