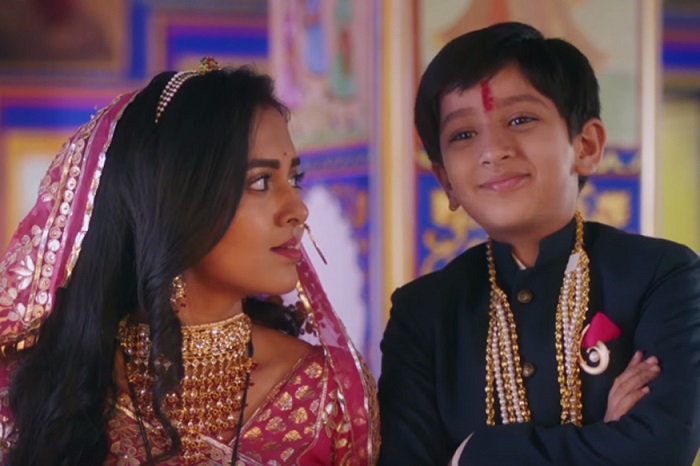 The controversial show Pahredaar Piya Ki being aired on Sony TV has landed into another trouble after a Mumbai NGO demanded a complete ban on the serial. The NGO, Jai Ho Foundation has requested ban on the show citing the alleged vulgar content and promoting child marriage. It has filed a complaint with Commissioner of Police Datta Padsalgikar and Union Minister Smriti Irani, raising strong objections on the show, seeking a ban since its evoking bad influence on children. 
NGO's President Afroz Malik and General Secretary Adil Khatri said, "A 10-year old child Piyaa is seen caressing, stalking and having a relationship of a sexual nature with a lady who is more than double his age and filling 'sindoor' in her 'maang'."
"This is "an indecent and obscene representation of a child for the purpose of representing sexual relationship," he added. 
"This TV serial as a whole is inciting and encouraging young children's minds to commit and engage in sexual relationship," Malik and Khatri said in the complaint. 
They are urging a probe and registering a case under the POCSO Act, 2012. The NGO believes that this action will set an example for other tele-serial markers. In case you missed the entire 'Pahredaar Piya Ki' fiasco, we've summed up a complete timeline of what happened when in the controversy sparked by the concerned show. 
Pahredaar Piya Ki- Caretaker of the Lover 
The Indian television show has sparked unrest among the audience and media for its alleged obscene content. It shows a 9-year-old boy stalking and wooing a 19-year-old girl, who is set to be her wife-cum-caretaker. It is being aired on Sony and features Tejaswi Prakash and Afaan Khan in the lead roles. 
In the first episode itself, the show introduces the audience to Diya, who is a Rajasthani princess and Ratan, a 9-year-old prince. The scene where Diya is being stalked by a boy who is half her age, sparked an outrage among audience as well as media. He takes her pictures without consent and even embracing the protagonist when she trips off. Audience raised questions over stalking and romanticising a relationship between an adult and a kid. 
Karan Wahi on Pahredaar Piya Ki
Karan Wahi, a popular TV actor and a former U-19 cricket player, who appeared in Dill Mill Gaye was the first among industry to point out the content of the show. In July, he expressed his disappointment at the makers of Pahredaar Piya Ki for showing the romanticism of relationship between an adult woman and a 9-year-old boy. 
Also Read: TV actor Karan Wahi slams makers of Pehredaar Piya Ki for cringeworthy story
He took to Facebook to express his disagreement with the show. 
"Dear producer and channel .. i understand we cant make shows like how i met ur mother and friends, and honestly i dont expect us to also ,but for the love of god and for the reason we all got in this industry plz dont sell me stupidity in the name of content whch gives trp because honestly noone is watching this . Leave aside other people i think the fraternity only dsnt . I wish and pray well fr everyone whose a part of this show also but it wud be great if we started enjoying our work and not just working because we dont have an option... 
Not to sound arrogant but we can be better than this."
Suyyash Rai's take on the show
Actor Suyyash Rai, who is the part of the show, also put his stand through an Instagram post. He wrote: 
"Guys watever @imkaranwahi said its his pov no1 can question him neither me nor you guys. But this doesnt change the fact that WE the whole team of #PPK we love this show and we all have worked really hard for it and we still are andddd we will.  Our motive is to entertain you guys not promote child marriage or anything. This show is different , plz dont judge it and jump onto conclusions  If a channel like @sonytvofficial has approved the show they must have thought something right ??? Even d producers must have thought a lot before making this and investing soo much money. Its my req to all,plz watch it first and then decide :) maybe m wrong MAYBE :) but lets wait n then decide. Love to all. n thanku for sucha good response for the frst epi"
Karan Patel, who's playing Raman Bhalla in Ekta Kapoor's 'Yeh Hai Mohabbatein' backs his friend and actor Karan Wahi. He comments his agreement to whatever Karan said. He wrote: 
Also Read: Karan Patel to Aamir Ali: Television's leading men support Lipstick Under My Burkha
"Karan Wahi.... im with you on this one brother... very well put...and im sure most of us actors agree with you... koi kare na kare, I DO... love you mere bhai...lets meet soon...!"
Tejaswi Prakash backs her show
Lead actress of 'Pahredaar Piya Ki' backed her show and calls it progressive. She even goes on lengths to compare the show with popular Hollywood TV Show, Game of Thrones.  
"I think it's really progressive. It also happened in Game Of Thrones. People love Game Of Thrones and if same thing happens in Pehredaar Piya Ki, then it's an issue. I'm an actor. I just get my script, go on the set and I perform. There is nothing wrong that we have shown,"
Suyyash Rai again took the stand for the show, saying, "Tell me did we show them having sex that there's such a hullabaloo over the suhaag raat sequence? And there is no honeymoon sequence. It's all imagined by these critics to pull our show down. The producers have been in the industry for a long time and do know their job well. People are only targeting us because it's a different show. It is not just an entertaining show but it is also helping so many people earn their living. We are not here to preach but only present a fictitious entertaining story,"
The show recently landed into another trouble when an online petition was filed against it on change.org. Smriti Irani immediately responded to the petition writing to BCCC. Prompt action against the show has been demanded by the Union Minister. 
The petition reads: 
"A 10-year-old impressionable little kid ("piyaa") caressing and stalking a lady who's more than double his age and filling sindoor in her "maang" is being telecasted at prime time, family time. Imagine the kind of influence it will steadily and perpetually infuse in the viewers' mindset. We want a ban on the serial. We do not want our kids to be influenced by such TV serials,"
For more entertainment stories, follow our Facebook page