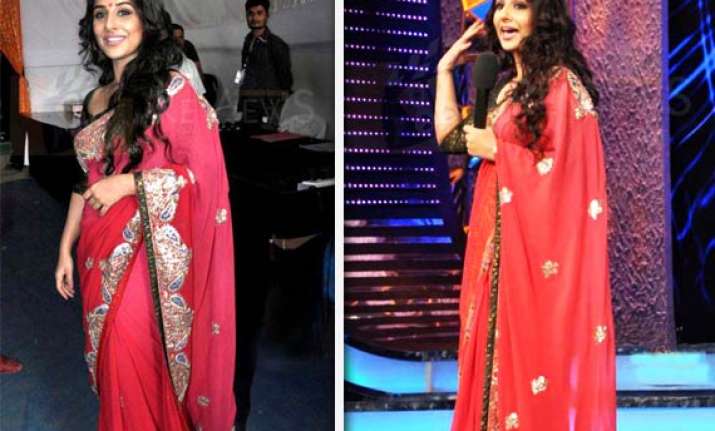 Mumbai, Dec 15: Vidya Balan is having a helluva time. Wearing a red saree, Vidya had showed up in Bigg Boss along with her co-stars Emraaan Hashmi and Tusshar Kapoor, and HT reports that the saree worn by Vidya on the reality show has found a buyer who is willing to pay Rs 90,000 for it.
 
The buyer, Mreenal Deshraj is also a small-time actress. Says Mreenal, "After watching the episode of Vidya Balan on Bigg Boss, I decided that I would buy the saree that she was wearing, no matter what. In fact, I liked the saree so much, that I have been wearing red for about 15 days on my TV show."



 
Mreenal is doing the role of a protagonist in the serial Chhoti Si Zindagi.
 
Mreenal adds: "I've already paid Rs 40,000 for the sari to the designer, but it will cost me about Rs 90,000. I will pay the remaining sum once the saree is delivered to me."
 
The designer of the saree  Riyaz Gangji says: "Balaji Films wanted me to design sarees for Vidya that she was supposed to wear for the film's promotions. I have designed three sarees for her so far. She's already worn one for the Bigg Boss and she's yet to wear the others. with red as the main colour, I have used gota work on the border  and small peacock motifs in green and blue for the saree."
 
Incidentally, Vidya is a diehard Sabyasachi fan.