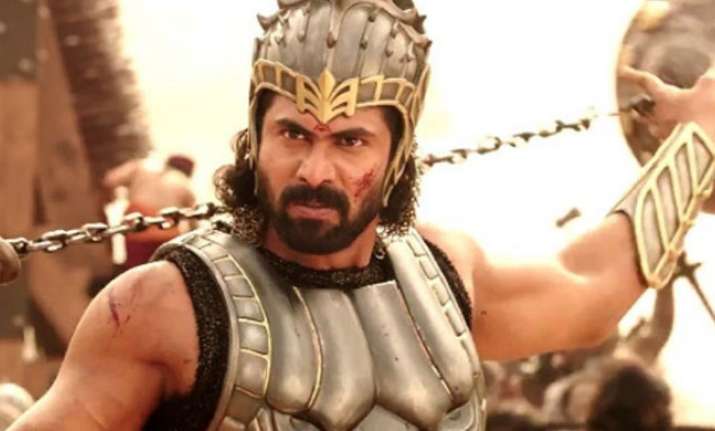 Actor Rana Daggubati brought Internet to a standstill yesterday when he shared a photo of him from the gym. The beefed up avatar of Rana, who will reprise his role of Bhallaladeva in 'Baahubli 2', spoke volumes about his dedication for the movie. While anticipations around 'Baahubail 2' don't seem to fade away, Rana has revealed some details about the movie.
Probably, the most important revelation by Rana during his recent interview was that the sequel will not end in a mystery. 'Baahubali: The Beginning' left viewers with only one question, 'Why did Kattappa kill Baahuabli'? But Rana has confirmed that the sequel will not leave viewers hanging as the story will be complete.
Doling out details of what to expect from the sequel, Rana said that in terms of architecture and visual spectacle it is going to be bigger. The antagonist of the magnum opus said that just before the end of the movie, there is a grand war sequence.
Speaking about the war sequence, Rana said that it is nothing like what viewers saw in the first part. He said that shooting the grand scene was difficult even for them who already know the nuances of the same.
Rana added that the sequel will give the viewers a satisfying feeling, most importantly, because the story would be complete. He also said that viewers will get to see the young Anushka Shetty (who was tied by chains for the better part of the first instalment).
In Rana's own words, Bhallaldeva is going to meaner, stronger and bigger in the second part. When Rana was asked if playing a villain would ruin his image of a hero, he begged to differ. He said that in movies like 'Baahubali', the villain has to be mightier because he has to be shown more powerful than the hero.
"See when you make a period war film, the reason you cast somebody so big is because you want the antagonist to be far far bigger and more powerful than what the protagonist is. In that sense it helps in every way in my career," Rana added.
'Baahubali: The Conclusion' will hit theatres on April 28, 2017.