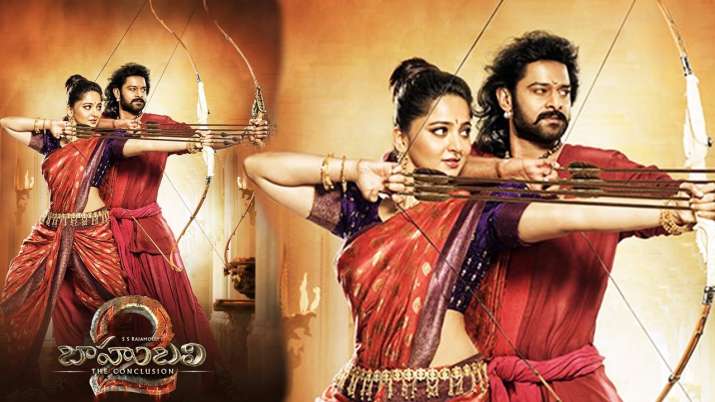 Overwhelming, extraordinary and exceptionally brilliant, SS Rajamouli's visual innovations took me beyond the magic on the screen. Baahubali 2 is more than a film, it is a cinematic experience that keeps us in willing suspension of disbelief, in awe. From the overwhelming elephant scene to the gigantic flying ship - it's just pure genius. The film is feast for the eyes, but it also touches the heart. The ingenuity of the action and the spectacle lures the viewers. 
Poetry in motion
However, one scene that really blew my mind was the flawlessly choreographed bow-and-arrow-fight sequence by Baahubali and Devasena in Kunthala kingdom. What was I witnessing? I had goose bumps throughout! A perfectly coordinated, beautiful, alluring scene - it wasn't a fight sequence, it was more like a dreamy song - it had the beauty and intensity of emotions flowing in rhythmical composition. A fight choreographed to perfection. The synchronised shooting of the arrows pulled at our heartstrings and we marvelled at the awesomeness.
Crackling chemistry
Amarendra Baahubali and Devasena shared explosive chemistry on screen. The scenes they did together were nothing but art filled with mythic charm that spared no one in the theatre. Another powerful scene was the one in which Amarendra Baahubali stood below the deck in the water and offered his shoulders to Devasena to walk to the boat -- shows a beautiful relationship between them, one of love, dedication and devotion. It unleashed an incredible rush of emotions. 
SS Rajamouli's magnum opus 'Baahubali: The Conclusion' has a universal appeal, it cuts through the regional barrier, it is pan-India and it is larger than life. The film hit the theatres on 28th April, 2017, two years after Baahubali: The Beginning released, and earned a whopping 125 crore on its first day. The audience is in awe of the movie and can't stop praising the cast and the crew who have exceeded everyone's expectation and managed to deliver yet another masterpiece. We bow to you, Sir.