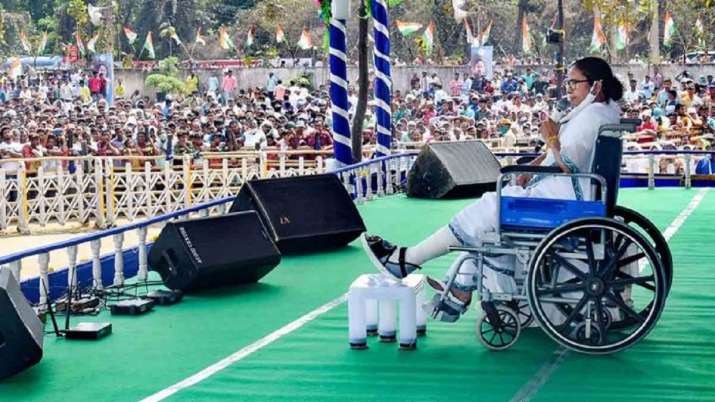 The Trinamool Congress has informed that party chief Mamata Banerjee will not campaign in Kolkata in view of a massive surge in Covid-19 cases. The party said that she has also slashed time for all poll rallies in other parts of the state where polling will be held in the remaining phases to just 30 minutes.
Senior party leader and Rajya Sabha MP Derek O'Brien tweeted that Banerjee will only address a symbolic meeting in Kolkata on the last date of campaigning. Kolkata will go to polls in the eighth phase on April 29.
"Mamata Banerjee will not campaign in Kolkata anymore. Only one symbolic' meeting on the last day of campaigning in the city on April 26. Slashes time for all her election rallies in all districts. Restricted to just 30 minutes," he said.
West Bengal is in the midst of the Assembly elections. While polling five phases have taken place since March 27, polling in the remaining three phases will take place on April 22, 26 and 29. Results will be announced on May 2. 
The state has reported a sudden spike in cases of infection, forcing the political parties to redraw their campaign. Congress leader Rahul Gandhi has already announced to cancel his public rallies in the poll-bound state. 
On Sunday, the eastern state recorded highest single-day spike of 8,419 Covid-19 cases, pushing the caseload to 6,59,927. A total of 28 people succumbed to infection, taking the tally to 10,568. Kolkata is the worst affected city in Bengal, accounting the highest number of fresh cases. The capital city reported 2,197 new cases on Sunday.
Meanwhile, Mamata has announced that the TMC will only hold small meetings in Kolkata and that she will curtail the time of her speeches in rallies.
"Yes, we have decided to hold small meetings, street corner-type ones, in the city in the campaigning for the next three phases. We will not hold any big gatherings anymore. Also, my speeches in the meetings addressed by me will be much shorter," she said.
READ MORE: Rahul Gandhi announces cancellation of poll rallies in West Bengal
READ MORE: Thank you for sparing time for COVID amidst urgent war to conquer Bengal: Chidambaram's dig at Modi