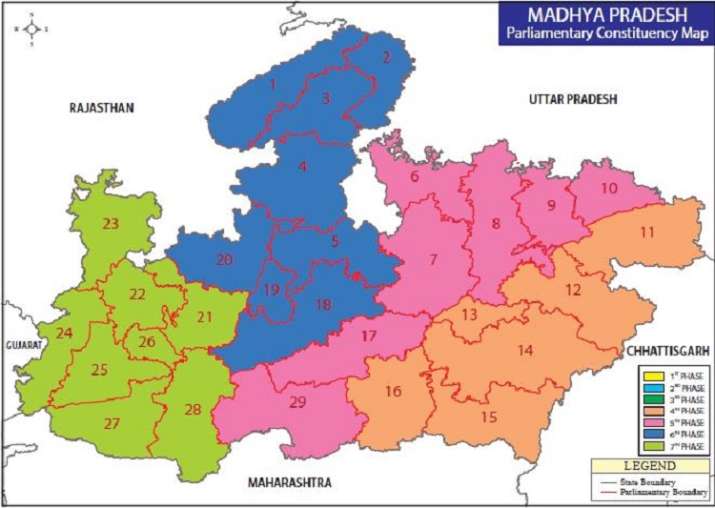 Voting for Madhya Pradesh's 29 parliamentary constituencies will take place in four phases between April 29 to May 19, the Election Commission announced on Sunday.
The first phase of voting will take place in Sidhi, Shahdol, Jabalpur, Mandla, Balaghat and Chhindwara on April 29 - the fourth of the seven-phase polls - while voting would be held in Tikamgarh, Damoh, Khajuraho, Satana, Rewa, Hoshangabad and Betul on May 6 - the fifth phase.
Morena, Bhind, Gwalior, Guna, Sagar, Vidisha, Bhopal and Rajgarh will vote on May 12 in the penultimate phase of the polls and the last phase of voting in the state - and the 2019 polls - would take place on May 19 in Dewas, Ujjain, Mandsour, Ratlam, Dhar, Indore, Khargone and Khandwa.
Counting will be held on May 23.
The BJP, which was in power in Madhya Pradesh since 2003 till the 2018 Assembly polls, had won 27 of the 29 seats in the state in 2014.
In the 2018 Assembly polls, the Congress won 114 seats while the BJP finished at 109 seats, seven short of a majority. The two parties were locked in a nail-biting contest.
Voting in the by-poll to Chhindwara Assembly constituency would also be held on April 29.
| | | |
| --- | --- | --- |
| PHASE | DATES | LOK SABHA SEATS |
| First | 29th April | Sidhi, Shahdol, Jabalpur, Mandla, Balaghat, Chhindwara |
| Second | 6th May | Tikamgarh, Damoh, Khajuraho, Satna, Rewa, Hoshangabad, Betul |
| Third | 12th May | Morena, Bhind, Gwalior, Guna, Sagar, Vidisha, Bhopal, Rajgarh |
| Fourth | 19th May | Dewas, Ujjain, Mandsour, Ratlam, Dhar, Indore, Khargone, Khandwa |
Also read: Lok Sabha Elections 2019 complete schedule: Check polling date in your constituency