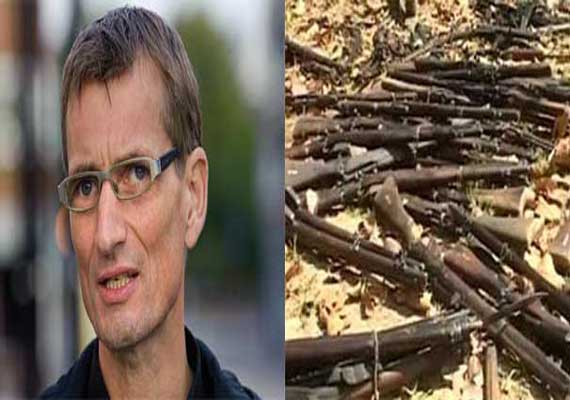 New Delhi: The Purulia arms drop case is the legal case regarding an incident on 17 December 1995 in which unauthorised arms were dropped from an Antonov An-26 aircraft in Purulia district in the state of West Bengal.



The chief accused Kim Davy claims that it was a conspiracy of the Indian government together with RAW and MI5 to overthrow the communist government in West Bengal and he was given assurances from the central government about his safety and return to Denmark.

While the true motive of the operation remains shrouded in mystery and conjecture, it has been alleged that arms were intended for the socio-spiritual organization Ananda Marga.

This has been disputed by the prime accused in the case Kim Davy who claims the central government itself was behind the arms drop to counter the CPI(M) cadres.




An Indian court in 1997 determined that the Ananda Marga group was indeed the intended recipient of the guns and ammunition.



However, despite the passage of years, many details of the incident are wrapped in mystery, and there has been considerable speculation as to the purpose and modality of the operation.

Five Latvian crew members along with arms dealer Peter Bleach was arrested in connection with the case, but key conspirator Davy managed to disappear from the airport.

Davy, wanted in the case by the CBI, said he had orchestrated the dropping of the arms and ammunitions — including over 300 AK 47s — to fight the then communist government in West Bengal. 



Davy is a Danish author. He is the author of book They call me a terrorist. He claims to have been involved in a 14-year journey from 1982 that involved building schools in Guatemala, agricultural projects in India and attending tiger conferences in Russia.

He is currently the manager of a company which sells houseboats.

Around 1995 he was involved in humanitarian work for the people in West Bengal, which at that time was governed by the Communist Party of India.



The authorities claim that he was involved in smuggling of weapons. He admits as much himself in his book, claiming that he made the weapon drop from a plane purchased in Latvia.

A total of 4 tonnes of arms were trafficked during his dealings in West Bengal.