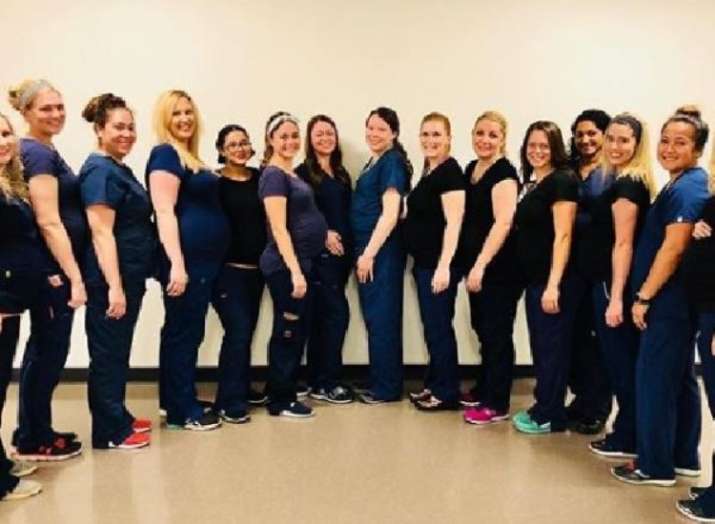 Undoubtedly, there are weird and surprising things happening all the time in this world. Similarly, something strange, as well as unbelievable, is happening in at a hospital in Arizona where 16 nurses are pregnant at the same time. It is nothing less than a 'baby boom'.
Sixteen nurses who work for the intensive care unit at the Banner Desert Medical Center in Mesa, Arizona realized that they are all pregnant at the same time. The nurses initially joked there was something in the water when they came to know they were expecting babies between October and January.
"I don't think we realized just how many of us were pregnant until we started a Facebook group and more people kept adding to it," Rochelle Sherman, a nurse at Banner who is eight months pregnant told USA Today. 
Another nurse, Jolene Garrow, joked, "'We all formulated this plan to have the holidays off!". She also said that patients have now started noticing that the nurses are expecting babies and their non-pregnant colleagues have supported them immensely at work."
On the other hand, Ashley Adkins expressed concern about the much-talked-about situation at Banner Desert Medical Center and said that other nurses are getting tired of pregnancy conversations. 
It is obviously a difficult situation but the hospital is ready to manage it with ease. The hospital official at Banner Health said during a press conference that they will allocate shift work to a pool of unassigned nurses at the hospital when the pregnant nurses begin taking their maternity leaves. 
Additionally, the hospital is taking good care of all the pregnant nurses. They also gave these soon-to-be mommies one-piece rompers reading, 'Relax! My mom is a Banner nurse!'.A group baby shower has also been organized by non-pregnant nurses at the hospital which will take place next week.