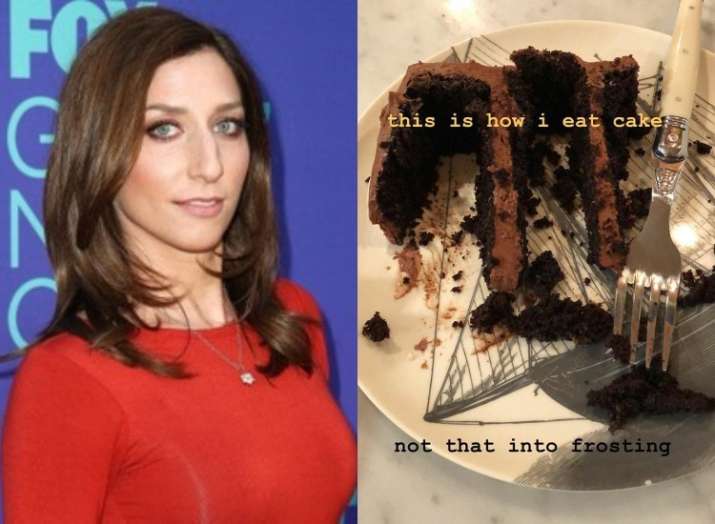 It is not every day that we witness Twitter erupting like a volcano over a picture shared by someone. The moment Brooklyn Nine-Nine star Chelsea Peretti shared a picture of how she like to eat the cake, Twitterverse went into shock and even called her a monster. Chelsea Peretti, 40, who is best known for her role in NBC comedy Brooklyn Nine-Nine, took to Twitter in an attempt to defend herself after she came under some serious criticism on Instagram for sharing an image of her rather peculiar cake-eating method. She shared a bizzare picture of a piece of layered chocolate cake, from which all of the actual cake had been devoured from in between the layers of frosting, having been carefully picked out with a fork.
Captioning the snap she wrote, 'THE IMAGE I POSTED ON IG THAT HAS SET THE HOME-ON-FRIDAY INTERNET ABLAZE' and the picture read 'This is how I eat cake, not that into frosting.'  The moment her picture surfaced online, netizens went crazy saying this should be illegal and this is a gross way of eating. On the other hand, there were some people who agreed it was their preferred method of eating the dessert as well. 
THE IMAGE I POSTED ON IG THAT HAS SET THE HOME-ON-FRIDAY INTERNET ABLAZE pic.twitter.com/HgnalYxKmR

— Chelsea Peretti (@chelseaperetti) September 15, 2018
While some Twitter users said, 'Honestly, eating cake like this should be illegal,' another commented, 'You are clearly disturbed and should seek help as soon as you have sent me the leftover frosting. Another person jokingly pointed out that perhaps there were alternative foods Chelsea might like better, given her aversion to frosting.
Check out all the reactions here-
September 15, 2018
Thank you. I hate frosting and we need representation and positive role models!!!

— Ashley Nicole Black (@ashleyn1cole) September 15, 2018
The people on here agreeing with this nonsense: JUST DONT EAT CAKE! Have a muffin! Leave the cake to actual cake lovers! pic.twitter.com/Qq1OiyIeDh

— Jason C (@jason_chadney) September 15, 2018
How this image makes me feel pic.twitter.com/wSLuPHA8pF

— Urlane Verel (@laurenislost) September 15, 2018
This person doesn't like cake. They like bread.

— Colleen White (@ColleenW1230) September 15, 2018
And I bet she eats a Kit Kat like this 🤨 pic.twitter.com/EV9wR0ZQdc

— Jodi💖 (@Jyoti1118) September 16, 2018
I'm not mad. just disappointed. pic.twitter.com/zSqKNivb1X

— 𝕒𝕝𝕪𝕤𝕤𝕒| MANY SPOILERS (@wiignewton) September 15, 2018