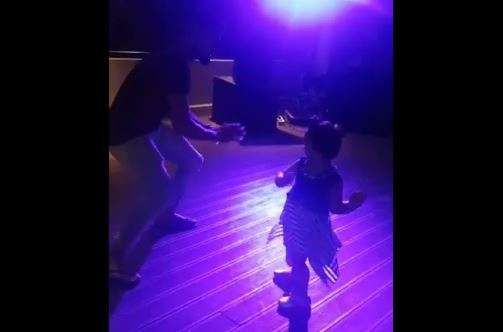 Virat Kohli is not only master of his art but can also give dancers a run for their money. We all have seen his dancing skills with that killer swag. Whether it is while attending Yuvraj Singh's wedding with his girlfriend Anushka Sharma or celebrating team's victory with fellow cricketers, he doesn't shy away from showing off his moves. Now, a clip of Indian captain dancing with Mohammed Shami's daughter Aairah is going viral and we have to say that they have gelled up so well.
Mohammad Shami shared this video on his Twitter handle after Team India's win against Sri Lanka and wrote "Aairah dance with Virat [Kohli] after 3-0 victory." With the third consecutive victory, Indian Cricket Team has sealed five ODI series against the neighbouring country. In the video, Virat can be seen matching steps with adorable Aairah on the dance floor. The dance video on Lou Bega's hit track 'I got a girl' has already garnered 12K likes and is still counting.
While you scroll down on Virat's Instagram profile, you can notice his pictures with cricketers' kids which tell a lot about his fondness of them. Remember his selfie with MS Dhoni's daughter Zeeva and Harbhajan Singh's li'l munchkin Hinaya? It completely stole away our hearts. Meanwhile, Virat and his boys will square off against Sri Lanka on August 31 in fourth ODI.
Here are some of his cute Instagram posts with kids: