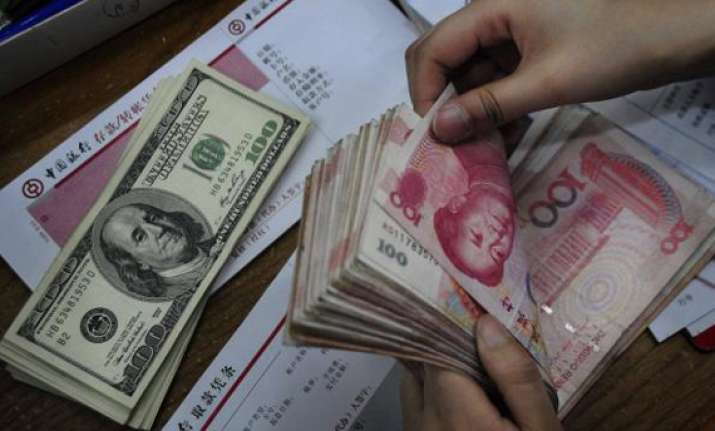 Mumbai, Nov 17: The rupee fell for the fourth straight session today ending down by 16 paise at 50.90/91 against the US currency on persistent dollar demand from banks and importers, mainly oil refiners, amid weak equities.

The rupee continued to trade weak taking cues from global markets where dollar traded strong against the major currencies, mainly against euro, dealers said.

In the New York market, the euro reversed course to slide below the USD 1.35 per euro-mark again after Fitch warned about potential adverse impact of the eurozone's debt crisis on the US banking sector.

Meanwhile, the BSE benchmark Sensex ended lower by another 314 points or 1.87 per cent.

"Looking at the global scenario one can expect Rupee to trade over 51.00 levels in coming days," Pramit Brahmbhatt, CEO Alpari Financial Services (India) said.

The rupee resumed lower at Rs 50.78/79 per dollar on the Interbank Foreign Exchange, as against its previous close of Rs 50.74/75 per dollar. It hovered in a range between Rs 50.64 and Rs 50.9275 per dollar before ending at 50.90/91 per dollar.

The dollar index was down by over 0.09 per cent against a basket of currencies while global crude oil was trading above USD 100 a barrel in European market today.

"RBI intervention may not help much in absence of similar actions from other central banks. Situations may further worsen if European banks stop lending abroad," Abhishek Goenka,CEO, India Forex Advisors said.

"Importers are not keen on taking fresh covers as forward premiums have shot up while exporters who have already hedged significant portion of their exposure are not encouraged to take covers as they are uncertain about contract pipelines for next year," he added.

The rupee premium for the forward dollar ended steady to better on fresh paying pressure from banks and corporates.

The benchmark six-month forward dollar premium payable in April closed steady at 110-112 paise while far-forward contracts maturing in October ended higher at 184-186 paise from 178-180 paise previously.

The RBI fixed the reference rate for the US dollar at Rs 50.7220 and for the euro at Rs 68.4619.

The rupee reacted downwards against the pound sterling to end at Rs 80.22/24 from Rs 80.03/05 yesterday and declined to Rs 68.61/63 per euro from Rs 68.31/33 previously.

It, also fell back sharply against the Japanese yen to Rs 66.19/21 per 100 yen from overnight closing level of Rs 65.53/55.