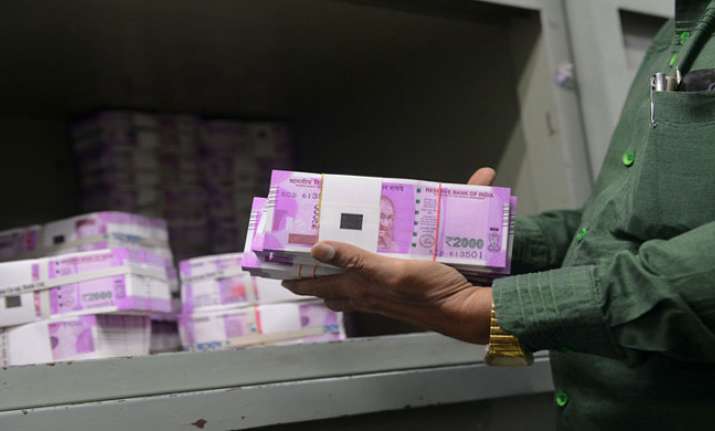 The growth of the Indian economy in the first quarter of financial year 2017-18 slipped to 5.7 per cent from 6.1 per cent in the quarter before, as disruptions caused by demonetisation spilled over to the third straight quarter amid slowdown in manufacturing activities. Gross domestic product (GDP) growth in the first quarter of 2017-18 was lower than 6.1 per cent of the preceding one and 7.9 per cent in the same period last fiscal. 
As businesses destocked inventories ahead of the GST kick-off from July 1, gross value added (GVA) in manufacturing declined to a low of 1.2 per cent, from 10.7 per cent, year on year. 
"GDP at constant (2011-12) prices in Q1 of 2017-18 is estimated at Rs 31.10 lakh crore, as against Rs 29.42 lakh crore in Q1 of 2016-17, showing a growth rate of 5.7 percent," the Ministry of Statistics and Programme Implementation said in a statement today.  
"The growth in the 'agriculture, forestry and fishing', 'mining and quarrying', 'manufacturing',  'construction'  and  financial, insurance, real estate and professional services is estimated to be 2.3 per cent, (-) 0.7 percent, 1.2 per cent, 2.0 percent and 6.4 percent respectively during this period," the ministry statement said. 
The economic activities which registered growth of over 7 percent in April-June quarter as against Q1 of 2016-17 are 'trade, hotels, transport & communication and services related to broadcasting', 'public administration, defence and other services' and 'electricity, gas, water supply & other utility services'.
Union Finance Minister Arun Jaitley expressed concern over the drop in GDP growth and said it poses a challenge for the economy. "It is certainly a matter of concern that first quarter GDP has come down to 5.7 per cent and its obvious therefore it throws up a challenge for the economy," the FM said.
He said manufacturing growth rate seems to have bottomed out as GST has been implemented and destocking of pre-GST stocks is almost complete. 
"... with GST now being operationalised, this would be bottoming out as far manufacturing is concerned and probably the curve could turn up," the minister told reporters here. 
"In coming quarters, we really require to, both in terms of policy and investment, work to improve upon these figures," he added. 
The drop in growth was even sharper compared to the like quarter a year ago when the country's GDP grew at 7.9 per cent. 
The national income data released by the Central Statistics Office (CSO) for the first quarter is lowest during the Narendra Modi-led government's regime, which assumed office in May 2014. 
The previous low of 4.6 per cent was recorded in January-March 2014. 
Chief statistician TCA Anant said the major reason for the decline was a slump in manufacturing growth which fell steeply to 1.2 per cent in the June quarter, compared to 10.7 per cent in the same quarter last year. He said 74 per cent of manufacturing GVA comes from the private sector whose performance was poor.
Prices have risen on account of growth in input costs and "very large level of inventory de-accumulation that took place in the first quarter this fiscal", he said while explaining the numbers. 
Observing that it will be wrong to link the entire decline in economic activities to demonetisation, Anant said GVA was declining from the second quarter of the last fiscal, much before the November 8 decision of the government to junk high-value currency notes. 
Uncertainty about new indirect tax rates under GST prompted a host of industries, including carmakers, FMCG companies and garment manufacturers, to clear their stocks. 
Former chief statistician Pronab Sen said it was expected that the first quarter GDP would be weak because of GST. 
"But, in my particular case, this is about 40-basis point lower than what I was considering. I would be looking at probably now sub-6.3 per cent for the full year," he added. Crisil's D K Joshi termed the GDP number as "disappointing" as the expectation was that the growth would be 6.5 per cent. 
The CSO data further revealed that the rates of gross fixed capital formation (GFCF) at current and constant (2011-2012) prices during the first quarter are estimated at 27.5 per cent and 29.8 per cent, respectively, up from the corresponding rates of 29.2 per cent and 31 per cent, in the first quarter of 2016-17. 
India Inc and analysts have expressed disappointment on the data on economic activities and made case for improving ease of doing business and ways to increase private investment.
(With PTI inputs)