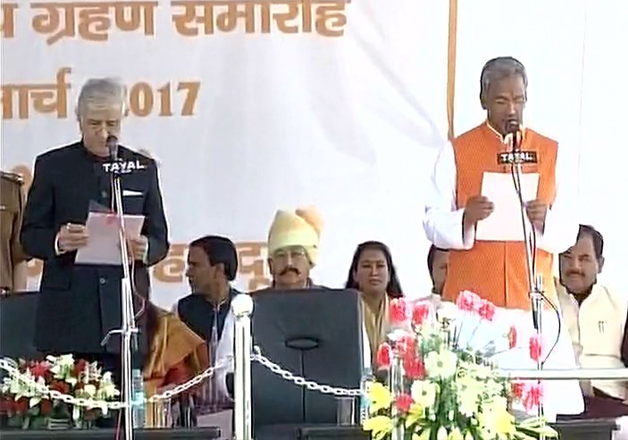 Former RSS pracharak Trivendra Singh Rawat was sworn in as Uttarakhand Chief Minister today after the BJP's emphatic win in the Assembly elections held last month. Rawat was administered the oath of office and secrecy by the Governor Krishan Kant Paul at Dehradun's Parade Ground.
Prime Minister Narendra Modi, Bharatiya Janata Party president Amit Shah and a host of senior party leaders and Union Cabinet Ministers attended the oath-taking ceremony of Rawat (56).
Satpal Maharaj, Harak Singh Rawat, Madan Kaushik, Arvind Pandey, Subodh Uniyal, Yashpal Arya and Prakash Pant have been made Cabinet ministers. Rekha Arya and Dhan Singh Rawat took oath as ministers of state. 
The BJP decimated the Congress in the Assembly election, winning 57 of the 70 seats. 
Dehradun: PM Modi at the oath taking ceremony of Trivendra Singh Rawat as Uttarakhand CM pic.twitter.com/DGgwZLbnfd

— ANI (@ANI) March 18, 2017
Coupled with his administrative and organisational skills and experience, Rawat's loyalty to the party and RSS ideology catapulted him to the top post in the state. 
Rawat was appointed the party's national secretary in 2013. He was later made co-incharge of the party's affairs in Uttar Pradesh in 2014. He was BJP in-charge of Jharkhand ahead of the crucial assembly election, a responsibility he discharged well to further strengthen the party leadership's trust in him. 
He had wrested the Doiwala seat from Congress with an impressive margin of 24,869 votes to win it for the third time.
Highlights: 
Dehradun: Prakash Pant, Harak Singh Rawat, Madan Kaushik sworn in as Uttarakhand cabinet ministers pic.twitter.com/egAE07utJu

— ANI (@ANI) March 18, 2017
BJP's Satpal Maharaj takes oath as Uttarakhand cabinet minister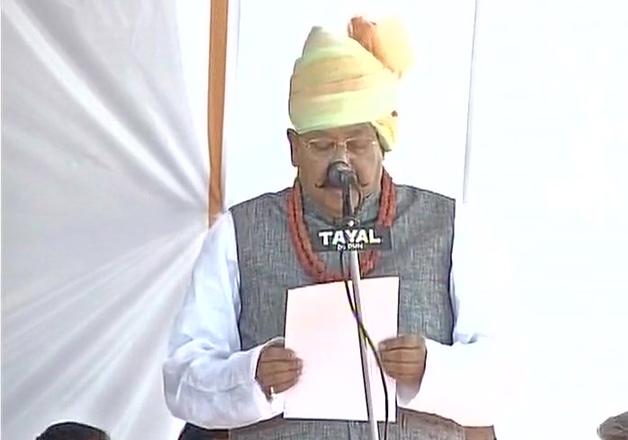 Satpal Maharaj takes oath as Uttarakhand cabinet minister
Trivendra Singh Rawat takes oath as Chief Minister of Uttarakhand pic.twitter.com/cwjjxObCpL

— ANI (@ANI) March 18, 2017
WATCH Live via ANI Facebook: Oath taking ceremony of Trivendra Singh Rawat as Uttarakhand CM, PM Modi arrives https://t.co/3mo97GEPcV pic.twitter.com/JNDqo2o1on

— ANI (@ANI) March 18, 2017
Dehradun: Amit Shah, Rajnath Singh, JP Nadda, Uma Bharti also arrive to attend oath taking ceremony of Trivendra Singh Rawat #Uttarakhand pic.twitter.com/wSWmip3aiC

— ANI (@ANI) March 18, 2017
Trivendra Singh Rawat to take oath as Uttarakhand Chief Minister shortly, Harish Rawat also present. pic.twitter.com/z6E9wWGgXt

— ANI (@ANI) March 18, 2017
Uttarakhand: PM Modi arrives in Dehradun; will attend swearing in ceremony of CM designate Trivendra Singh Rawat later pic.twitter.com/6snMdoDLjw

— ANI (@ANI) March 18, 2017
* Prakash Pant, Madan Kaushik, Yashpal Arya, Subodh Uniyal and Rekha Arya among MLAs who will take oath as ministers today 
Uttarakhand: Ahead of his swearing-in, CM Designate Trivendra Singh Rawat pays tributes at Shaheed Smarak in Dehradun pic.twitter.com/ltx0UuzF0L

— ANI (@ANI) March 18, 2017
The BJP Legislature Party had on Friday elected Trivendra Singh  Rawat as its leader. His name was proposed by BJP leader Prakash Pant and seconded by Satpal Maharaj. The two BJP men were also in the race for the post. All the other 54 Bharatiya Janata Party legislators then unanimously approved Rawat's candidature.
Rawat was elected in the presence of party observers and senior leaders from Delhi -- Tomar, Saroj Pandey, Dharmendra Pradhan, Shyam Jaju and JP Nadda -- as well as Uttarakhand BJP President Ajay Bhatt.
Elected from Doiwala, where he defeated Congress's Hira Singh Bisht with a margin of over 24,000 votes, Rawat is widely regarded in the party for his organisational skills. He was a 'Pracharak' in the Rashtriya Swayamsevak Sangh (RSS), the BJP's ideological parent. 
Besides being closely associated with Modi when the present Prime Minister was a BJP general secretary, Tomar also worked with Amit Shah in Uttar Pradesh during the 2014 Lok Sabha polls. That was when the BJP created history by sweeping 73 of the 80 Lok Sabha seats in Uttar Pradesh, leaving only five to the opposition and two to an ally.
Rawat, a Thakur, was among the frontrunners for the post and is largely credited with the BJP win in Jharkhand where he oversaw the party's assembly polls in 2014.
Rawat is the fifth BJP chief minister in Uttarakhand. The party formed its first government in the state when it was carved out of Uttar Pradesh in 2000 with Nityanand Swami as the first Chief Minister. Swami was replace by BJP's BS Koshyari in March 2001. 
The Congress won the first election in the state in 2002 and ND Tiwari headed the government. The BJP returned to power in 2007 with BC Khanduri as Chief Minister. Ramesh Pokhriyal replaced Khanduri in 2011.
In 2012, the Congress formed the government after a nail-biting finish with the BJP in the assembly elections that year. Vijay Bahuguna was made the Chief Minister but he was replaced two years later by Harish Rawat in 2014.