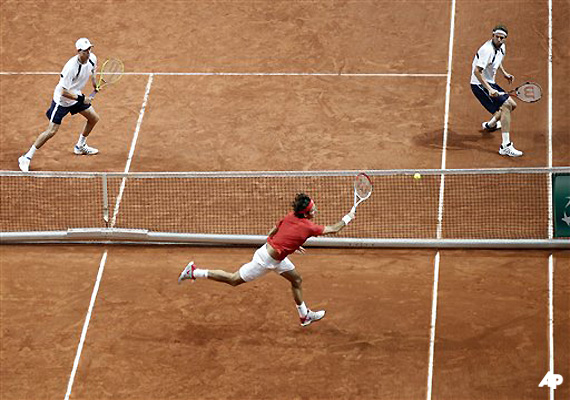 Fribourg (Switzerland), Feb 11: The United States swept favored Switzerland out of the Davis Cup as Mardy Fish and Mike Bryan beat Roger Federer and Stanislas Wawrinka 4-6, 6-3, 6-3, 6-3 on Saturday.

Teaming up for only the second time, Fish and Bryan comfortably handled the 2008 Olympics doubles champions in front of an occasionally hostile 7,000-strong Swiss crowd.

The Americans were kept under control for a set and a half, then seized every opportunity they had to exploit errors on Wawrinka's service.

Fish and Bryan picked up the momentum of a fantastic Friday for captain Jim Courier's team in a first-round tie played on an indoor clay-court selected by Federer.

In the singles, Fish outlasted Wawrinka in five sets and John Isner stunned Federer in four sets.

Fish partnered doubles specialist Bryan because his regular partner, twin brother Bob, was unavailable after his daughter was born last week.

Mike Bryan extended his impressive record in Davis Cup doubles to 20-2, and is unbeaten in 11 away matches.

In a match of few break point chances, the Swiss took their opportunity off Fish's serve in the opening game when Wawrinka struck a winner.

Federer served for the set, but the first chance was lost when Bryan's forehand looped off the net cord as a winner over Wawrinka.

That stroke of luck brought boos from some fans -- a sign of tension in the sold-out arena after Friday's surprising home defeats.

Wawrinka's angled volley winner created a second chance, which was taken when Fish's backhand was long.

The U.S. broke through in the sixth game of the second set, as Wawrinka twice double-faulted and Fish hit a rare crosscourt winner from the baseline.

The Americans seized on more Wawrinka errors in the third set, as the Swiss hit back-to-back wayward volleys to drop serve.

Bryan angered the home fans in the next game when he made Federer yelp with pain with a forehand volley that struck his legs.

On Federer's serve, the U.S. held two set points and Bryan's volley down the middle split the helpless Swiss pair.

Bryan's double-fist pump celebration drew more whistles from Swiss fans.

The American was becoming the villain of the story, and he struck Wawrinka in the midriff with a volley when both came to the net in the opening game of the fourth set. Bryan's rapid apologies each time failed to quell Swiss fans' frustration.

Bryan repeated his victory dance when breaking Wawrinka to lead 3-1 in the fourth, firing a forehand winner into the open court after Federer volleyed back another net cord that favored the Americans.

The match ended on another Wawrinka error, as his service return went long.