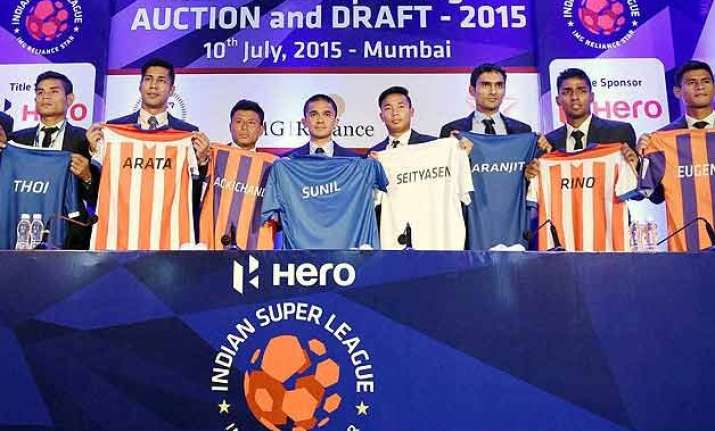 New Delhi: The auction of 10 footballers was divided into two phases -- Pool A and Pool B -- with five players in each group. Chhetri was the star in Pool A of the auction, while defender Rino Anto grabbed attention in the second Pool. No player went unsold at the auction for the second edition of the ISL that is scheduled to start on October 3.
Additionally, an extensive 113 Indian players were bought by the franchises via ISL draft.
1) Sunil Chetri (Mumbai City FC, Rs 1.20 Crores):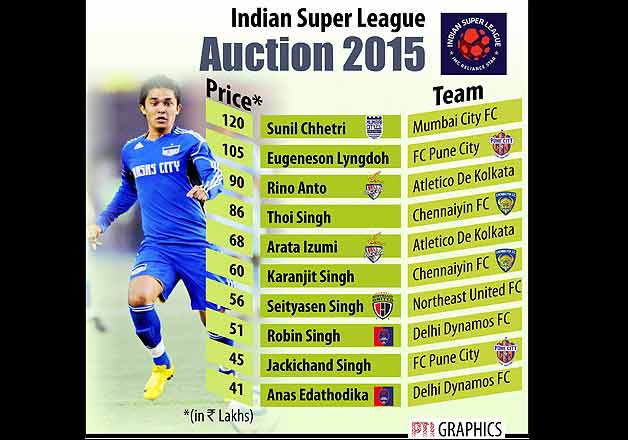 Indian football team captain Sunil Chhetri was bagged by Mumbai City FC for a massive Rs.1.20 crore, while FC Pune City bought midfielder Eugeneson Lyngdoh for Rs.1.05 crore at the 2015 Indian Super League (ISL) players auction here on Friday.
Four-time All India Football Federation (AIFF) Player of the Year, Chhetri had the highest base price in the auction at Rs.80 lakhs. The prolific forward has made 87 international appearances, scoring 50 goals.
"As a player I understand when you lose a game and do well, the next game and next day brings about a new challenge. I am very happy and thankful that I am bought by Mumbai City FC," the 30-year-old said at a press conference here.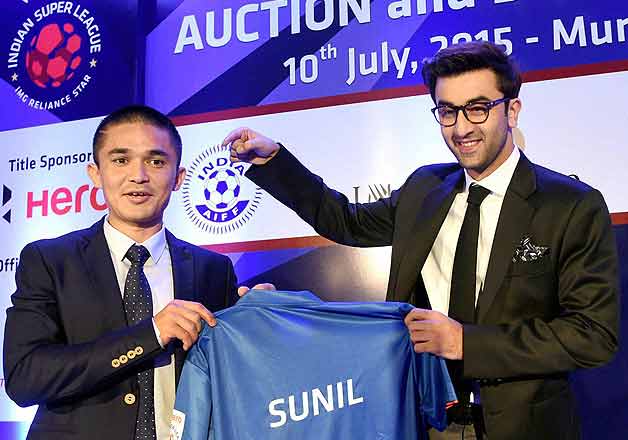 Chhetri also said he was looking forward to play alongside the team's marquee player-cum-manager, French great Nicolas Anelka.
Chhetri plays for Bengaluru FC in the I-League and helped the side to the title in 2014, becoming the joint top scorer in the league that year. Chhetri didn't play in the first edition of the ISL after his outfit refused to release him.
2) Eugenson Lyngdoh (FC Pune, Rs 1.05 Crores):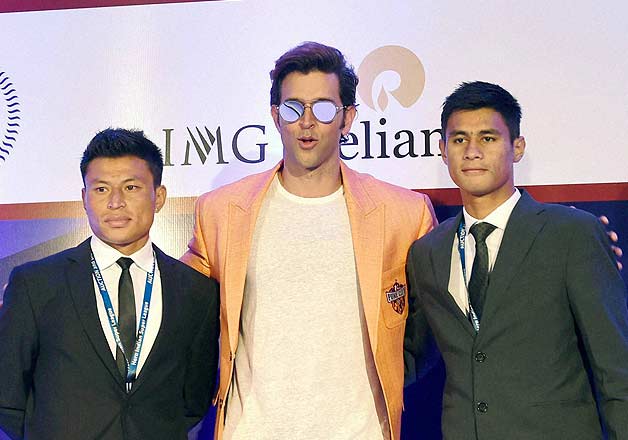 Midfielder Lyngdoh, who had a base price of Rs.27.5 lakh, was bought for a whopping Rs.1.05 crore. In 62 I-League appearances, he has eight goals. The 28-year-old played for Bengaluru in the I-League last season.
3) Rino Anto ( ATK, Rs 90 Lakhs):   
Anto, 27, who plies his trade with Bengaluru as a right-back and had a base price of a Rs.17.5 lakh, was bagged by Atletico de Kolkata (ATK) for Rs.90 lakh after withstanding some hostile bidding from Mumbai.
4) Thoi Singh (Chennaiyin FC, Rs 86 Lakhs):  Bengaluru midfielder Thoi Singh, with a base price of Rs.39 lakh, was bought by Chennaiyin FC for Rs.86 lakh. The 24-year-old has scored eight goals in 37 I-League matches.