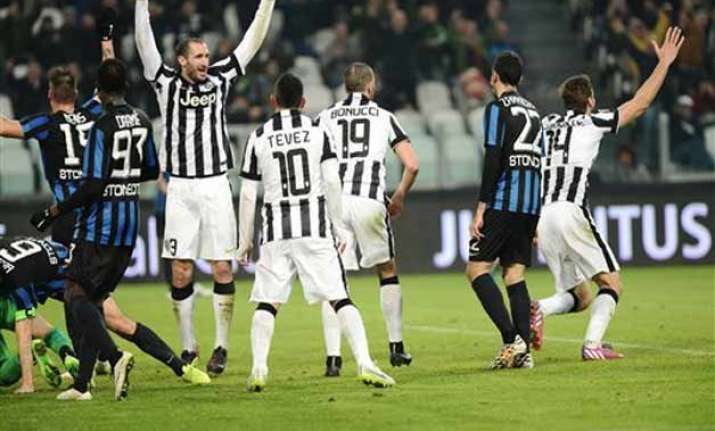 Turin, Italy: Juventus extended its Serie A lead to 10 points after coming from behind to beat relegation-threatened Atalanta 2-1 on Friday.
Giuliano Migliaccio put Atalanta ahead in the 25th minute, before two goals in quick succession from Fernando Llorente and Andrea Pirlo gave Juve a half-time lead.
Migliacco scored with a header off a corner, Llorente equalized from close-range in the 39th even though Carlos Tevez appeared offside, and Pirlo scored the winner in the 45th with a shot from 25 meters.
Juventus hosts Borussia Dortmund in the Champions League on Tuesday and needed a boost of confidence after drawing two of its three previous matches.
But Pirlo's spectacular winner aside, the three-time defending champion showed only glimmers of quality.
Paul Pogba was involved in a couple early chances for Juve but the Turin power produced little in the second half, appearing content to try and hold on to its one-goal lead.
"Today winning was the most important thing, even if we played poorly. We wanted to send a message to the league after the ugly game in Cesena and we did that and got three points," Pirlo said, referring to last weekend's 2-2 draw.
Juventus was shown a season-high five yellow cards.
Atalanta remained in 17th place, one spot and three points above the drop zone.
Second-placed Roma visits Hellas Verona on Sunday.
Also this weekend, Sampdoria faces Genoa in a derby and struggling AC Milan hosts Cesena.
On Monday, Napoli hosts Sassuolo and Inter Milan plays at Cagliari.