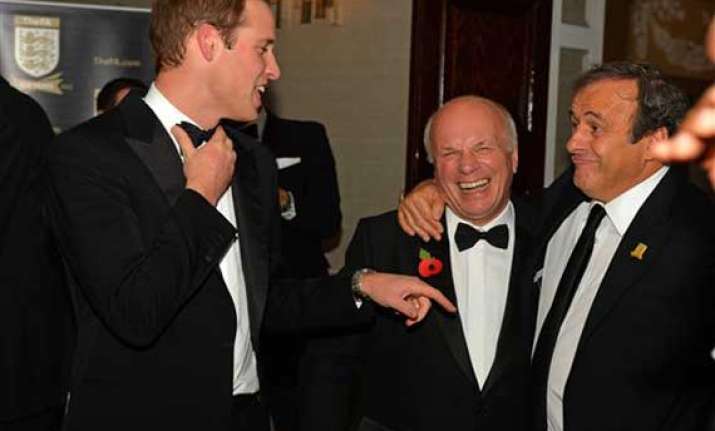 London: FIFA will  have a meeting with Russia's 2018 World Cup leadership next week  in which it will seek assurance about  the action they are taking,  to eradicate racism from matches but at the same time will assure that the country is not at risk of losing the tournament.
The problem of racism at matches in Russia was highlighted during a globally-televised Champions League match on Wednesday when CSKA Moscow fans hurled abuse at Manchester City midfielder Yaya Toure.  
"We are dealing now with actual problems," FIFA President Sepp Blatter said Sunday in London. "We are not dealing with the problems that may happen somewhere in the world. It is the question of racism today, and I'm dealing with that today.  
"And we will go back to the (FIFA) executive committee with what the situation is actually and what came with the last incidents we have had (in Russia)."  
Blatter's 27-member FIFA board includes the Russian sports minister, Vitaly Mutko.  
More immediately, FIFA Secretary General Jerome Valcke will hold talks in Moscow with 2018 World Cup chief executive Alexey Sorokin on Monday and Tuesday. The racism problem with be restricted to their one-to-one talks rather than featuring in the main organizing committee board meeting.  
"There are sanctions but in order to prevent (racism) there is an educational program to have in place in Russia," Valcke said, alongside Blatter. "So they are working on a program, the local organizing committee together with the Russian authorities, and definitely that will be discussed."  
Despite Blatter wanting teams kicked out of competitions if there is sustained racist abuse by fans, he sees no need to take FIFA tournaments away from whole countries blighted by racism in stadiums.  
"I have never said they have to take the competition out (of the country) because you cannot take a whole competition out," Blatter said. "It's impossible."  
The head of Blatter's anti-racism task force, FIFA vice president Jeffrey Webb, met Toure on Sunday at Stamford Bridge after City played Chelsea in the Premier League.  
Toure provided Webb with details of the abuse he faced in Moscow and agreed to assist with the task force's planned anti-racism educational programs, according to the CONCACAF, which is headed by Webb.  
Blatter says it's not only football's responsibility to remove the scourge of racism from countries.  
"I have to insist that racism and discrimination is in our society," Blatter said. "It's our society that brought it in football, and now we have to fight against that in our football. But we can only fight it in our football.  
"We cannot go to any society where something happened and to ask them to stop. This is not the duty or the responsibility or even the right of FIFA to do so."  
The more pressing concern for FIFA is ensuring the 2014 World Cup in Brazil is a success, although organizers are grappling with stadium issues and security challenges with less than eight months before the first game kicks off.  
Just outside the World Cup host city of Natal in northeastern Brazil, four fans were shot before a second division match on Saturday. Supporters of America and Ceara confronted each other inside the stadium and police had to intervene with pepper spray and tear gas.  
In another case of fan violence in the south American country ahead of football's showpiece event, Brazilian league leader Cruzeiro was ordered this week to play one home match away from its stadium disorder.  
"It's not the first time there is violence around the stadium ... it's a fact and it's happening in Brazil," Valcke said. "It's a huge country. Football is a passion and you cannot control everything. What I can say, when it's about the World Cup ... these kinds of things will not happen at the World Cup because we will have the highest level of security you can imagine."  
While preparing for the 2014 and 2018 World Cups, FIFA is trying to resolve issues with Qatar 2022.  
FIFA President Sepp Blatter will meet the emir of Qatar in Doha on November 9 to share concerns about labor rights for construction workers, while the organization is still figuring out when the World Cup can be played to avoid the tiny desert nation's searing summer heat.  
"There are enough problems, but there are no problems finally because all problems have a solution," Blatter said when asked about the 2014, 2018 and 2022 World Cup issues. "And we have to work on a solution of all the problems. In football, we are victims ... of the popularity of this game.  
"And, this game, from time to time, you can also say, they make people a little bit mad because it's the game of the people."