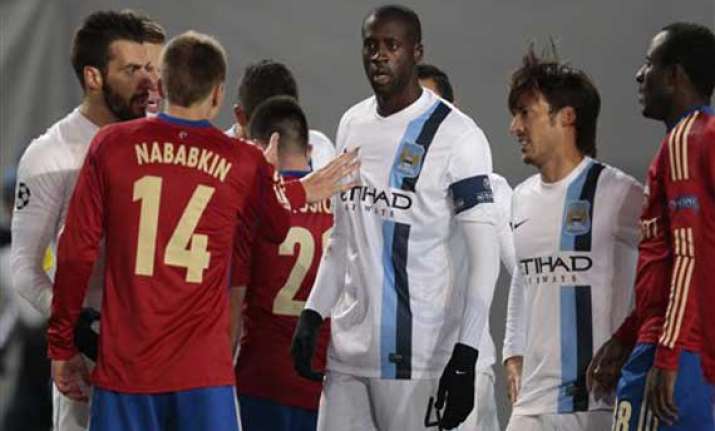 Moscow:  With Russia preparing to host two of the biggest sporting events in the world, a professional football team from Moscow has been caught up in a racism controversy that has led to calls for tough action against the locals.
Manchester City midfielder Yaya Toure, who is black and grew up in Ivory Coast, said he was racially abused by opposing fans during a Champions League match at CSKA Moscow.   
The Russian club denied it, but the governing body of European football opened disciplinary proceedings against CSKA on Thursday.   
"We regret the incident, even though we consider the accusations of racism to be unfounded," CSKA said Thursday in a statement.   
Russia, which will host the Sochi Olympics in February and then the 2018 World Cup, has been plagued by racism for years, much of it rooted in xenophobic sentiments that have flourished in the country after the 1991 Soviet collapse.   
Opinion polls show that many Russians dislike dark-skinned migrants from ex-Soviet nations, and violent xenophobic groups have beaten and even killed non-Slavs and anti-racism activists.   
In addition to frequent shows of racism, Russia has come under scrutiny as the host of the Winter Olympics because of the law passed this year outlawing "propaganda of nontraditional sexual relations among minors," which many worry may apply to gay athletes and visitors to the games.   
On Wednesday, Toure said that a section of CSKA fans abused him with racist chanting during the match, and the City player then complained to the referee.   
Besides denying the incident, the Russian team went further by quoting Seydou Doumbia, a striker from Ivory Coast who plays for the Russian team, as saying Toure was overstating what had happened.   
"Yes, they're always noisy in supporting the team, and try to put as much pressure as possible on our opponents," Doumbia said, "but they wouldn't ever allow themselves to come out with racist chants. So my Ivory Coast colleague is clearly exaggerating."   
City won the match 2-1, but Toure called on UEFA to take action against CSKA.   
"I think UEFA has to be stronger, and hold all the clubs and all the fans that do that (responsible)," Toure said. "Maybe they have a stadium ban. For me as an African player it is always sad to hear something like that and we need to do something about it."   
Toure also raised the prospect of teams boycotting the World Cup when it comes to Russia in 2018 if the issue of racism wasn't dealt with.   
"If we aren't confident at the World Cup, coming to Russia, we don't come," he said, according to RIA Novosti.   
In the past, Russia has tried to tackle the issue of racism at its stadiums. Some, including Anzhi Makhachkala players Roberto Carlos and Christopher Samba, repeatedly saw bananas thrown at them by fans.   
Following one of the incidents with Samba last year, Russian Sports Minister Vitaly Mutko vowed to reduce racism. But such promises haven't been backed up with action and authorities remain reluctant to investigate and punish the culprits.