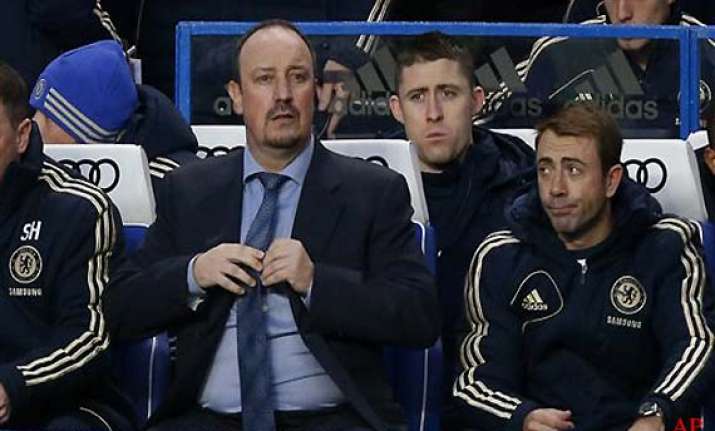 London, Nov 26: Rafa Benitez endured a hostile reception and gave the restless Chelsea fans nothing to cheer about as his first match in charge ended in a drab 0-0 draw with Manchester City on Sunday.
An insipid performance left Chelsea with just one win in five Premier League matches with Benitez, four days after replacing Roberto Di Matteo, failing to engineer an immediate uplift in fortunes amid constant jeering.
"My experience in England is that when the fans are singing I don't understand what they say," said Benitez, whose last job here ended at Liverpool in 2010.  
"I can understand the rivalry in the past (between Chelsea and Liverpool), but I am sure the majority of fans will understand I am a professional and I just want to do my job."
The meeting of the champions of England (City) and Europe (Chelsea) failed to produce any real attacking moments of note.
Fernando Torres was restored to Chelsea's starting lineup but the misfiring striker, who was so prolific under Benitez at Liverpool, squandered his only meaningful chance in the second half.
"You could see he was trying hard -- the team has to help Fernando create more chances to score goals," Benitez said.
Chelsea dropped to fourth below West Bromwich Albion, while City remains unbeaten but lost top spot to Manchester United, which leads by one point.
But it is was the intense venom directed by Chelsea fans at Benitez that provided the most memorable moments and revealed their verdict on the ninth managerial change of Roman Abramovich's nine years in charge.
Di Matteo lost his job after a loss to Juventus left Chelsea's hopes of progressing in the Champions League in jeopardy, although Mancini's City went out in the group stage for the second successive season on Wednesday.
And the Italian manager urged the Chelsea fans to give Benitez time.
"I don't think Rafa is a magician," Mancini said. "I don't think in two days he can change everything."
After chanting Di Matteo's name, Benitez's introduction before the match was greeted with persistent jeers from all around Stamford Bridge.
The on-pitch announcer had to plead with the fans to mute their dissent so that tribute could be paid to former manager Dave Sexton, who died on Saturday.
But after a minute's applause, the Chelsea fans turned on Benitez again with chants of, "We don't want you here," while "Rafa Out" banners appeared in the ground.
"How many people do you need to write a banner? One," Benitez said. "And maybe two to hold it."
Perhaps the only thing that can appease the home fans who are angry that their Champions League-winning manager was fired is that Benitez's "interim" position was highlighted in the match program and team sheet.
It took 20 minutes for the first scoring chance -- and that fell to City -- with David Silva heading over the bar, while Sergio Aguero went close at the end of the first half when he headed straight at goalkeeper Petr Cech.
"I think we are playing very well but are missing a goal," Mancini said.  
"We had a lot of chances, but were missing the last pass or shot. When you are near the box you should be very strong, if you are soft you cannot score. We dominated the first half, second half Chelsea did better."
As Chelsea imposed itself more after the break, Ramires fired over from 25 yards (meters) and David Luiz was off target with a header.
Torres was starved for service and cut an isolated figure up front, rarely looking like scoring his fifth league goal of the season.
His only opening came after Juan Mata and Eden Hazard combined to set up the Spain striker, who blasted over in the 61st.
"We didn't link with the players in the second line as much as I was expecting," Benitez said. "It's something I want to improve and then we will create more chances."
City goalkeeper Joe Hart only had one key save to make, palming a strike from Ashley Cole over the bar late on, although the home fans were annoyed that a corner wasn't awarded.
For close to the first time in the game, referee Chris Foy was the target of the Chelsea fans' anger rather than their own manager.
"He is here to try to change things to put us in a winning mode ... and he needs to get a chance to prove he's worth (it) to have a chance -- we have a new start," Cech said.  
"Today was about starting from zero again and getting a positive result.
"You need some time when you change the manager to get a positive result, and the mood and 0-0 against the champions is not a bad result."