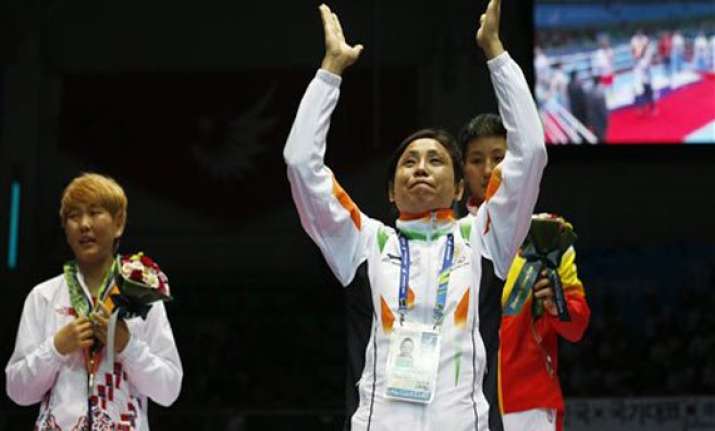 New Delhi: Boxer L Sarita Devi, who is enduring a torrid time, having lost her semi-final bout controversially at the Asian Games, today received a morale-boosting support from the Olympic Gold Quest (OGQ), which has decided to award the Manipuri pugilist Rs 10 lakh.
Sarita's gold medal dream ended abruptly in Incheon when judges declared South Korea's Ji-na Park as winner despite that the Indian was a more dominating performer in the 60kg bout on Tuesday.
She lodged an appeal against the verdict but lost and then chose an unprecedented way to express her disappointment by refusing to accept the bronze medal at the podium ceremony and instead gave it to the South Korean.
Sarita, who is now facing a disciplinary action by AIBA, though has got backing of media and also from the promoters and supporters of the OGQ.
"Olympic Gold Quest (OGQ) supporters announced an award of Rs. 10 lakhs for boxer Sarita Devi. This award was announced by supporters of OGQ for the courage and grit that she displayed in the boxing ring at the Asian Games in Incheon," OGQ said in a statement.
"In addition to this, OGQ also announced an increase of Rs. 10 lakhs in the training budget for Sarita Devi. OGQ salutes Sarita Devi for the pride that she brought to the entire nation with her recent performances in the ring," the statement added.