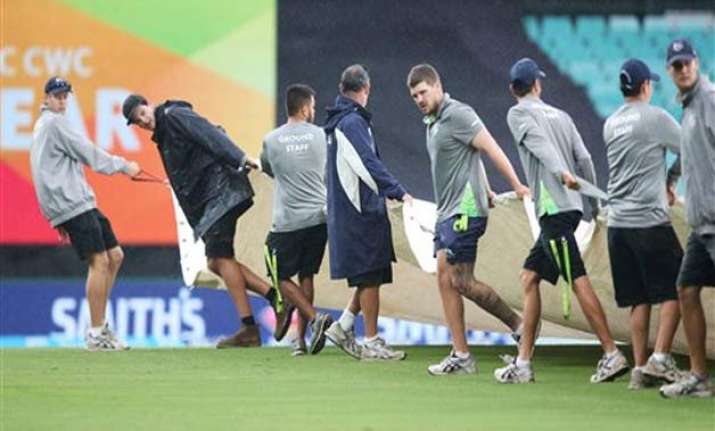 Wellington, New Zealand: The Cricket World Cup has had a charmed run with the weather but new contingencies will come into play if rain disrupts any of the match in the knockout rounds which start on Wednesday.
Only one of 42 matches in the pool rounds was lost to rain — the Feb. 21 clash between Australia and Bangladesh in Pool A.
From the quarterfinals onwards — beginning with Wednesday's match between South Africa and Sri Lanka in Sydney — reserve days are available for the first time at the tournament. That will allow all quarterfinals, semifinals and even the final to be fully played or continued on a reserve day if it is affected by rain.
So far the weather forecast for all four quarterfinals — in Sydney, Melbourne, Adelaide and Wellington — is favorable.
The tournament playing conditions specify that every effort must be made to complete a match of at least 20 overs per side match if rain interrupts play on the originally-scheduled day. If play has begun, a match can also resume on the following day, which is set aside as the reserve day.
If no result is achieved on either day, or if a tie occurs in a quarterfinal or semifinal, the team that finished highest in its pool will progress to the next stage. In the event that the final — in Melbourne on March 29 — is washed out, the two finalists will be joint winners.
That system means that New Zealand and India, who were unbeaten in pool play and finished atop their pools, will be favored in the event of any disruption to their knockout games.
"We're all aware of the playing conditions," New Zealand coach Mike Hesson said. "They've been out there for a while now.
"The advantage if there's rain around is the fact we are placed high in our pool. If rain becomes a major factor then that can help."