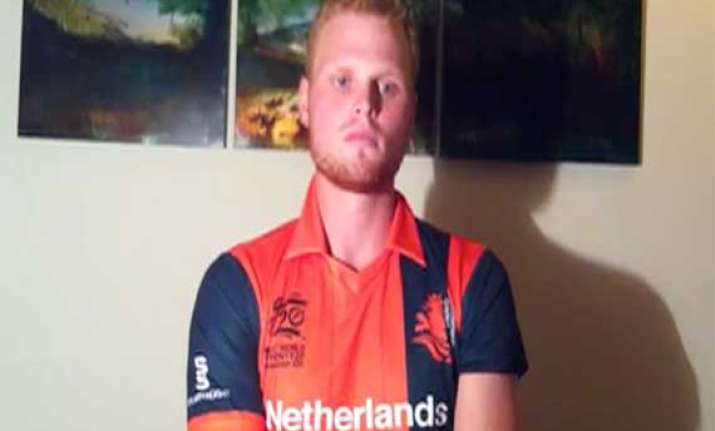 Holland batsman Tim Gruijters says his country's cricket board 'basically cheated' by replacing him in the World Twenty20 squad with Australian-born player Tom Cooper.
In a video statement posted on YouTube, Gruijters claimed that he was not injured but that he was 'bullied' into having a scan showing he had a bad back so Cooper, a 27-year-old batsman who plays for South Australia in the Sheffield Shield Down Under, could be brought in.
Gruijters said in the video: 'I would have played in the Dutch cricket team had it not been for the fact that the Dutch coaching staff decided to bend the rules, act against the spirit of cricket and basically cheat.Let me give you the facts.
'Fact No 1: on Thursday the March 13, Tom Cooper became unexpectedly available for the Dutch team after narrowly missing out on the Sheffield Shield final. Tom Cooper is probably the best batsman eligible to play for the Netherlands.
'Fact two: on the same day some team-mates and I had talked about Tom's availability. We all agreed that no one was injured so it would be impossible for Tom Cooper to play.
'Fact three: the next morning, March 14, the coaching staff called me to their room. They told me that I would be in the first XI had Tom Cooper not been available. "We need someone to be injured," they said."We need you to have a scan so that we can get the ICC's approval."
'Fact four: I was forced and bullied into having a scan. The scan showed I have a bad back. No surprise there. I have had a bad back for years, just like others have had bad shoulders and bad knees.
Like all sportsmen, I have learned to deal with the limitations and the pain. In fact, my back is better than it has been in a while. I think I am in the best form possible for this tournament.'
In reply, Holland manager Ed van Nierop told ESPN cricinfo: 'There were doubts about his mobility from early March. I was present at the MRI scan and even the medical staff said that he was in really bad pain. There were clear, visible issues in his lower back. And we will be playing three matches in five days.'
The ICC are unlikely to act against the claims as they have already approved the change to Holland's squad.
Holland beat the UAE by six wickets on Monday in their first match in this year's World Twenty20.