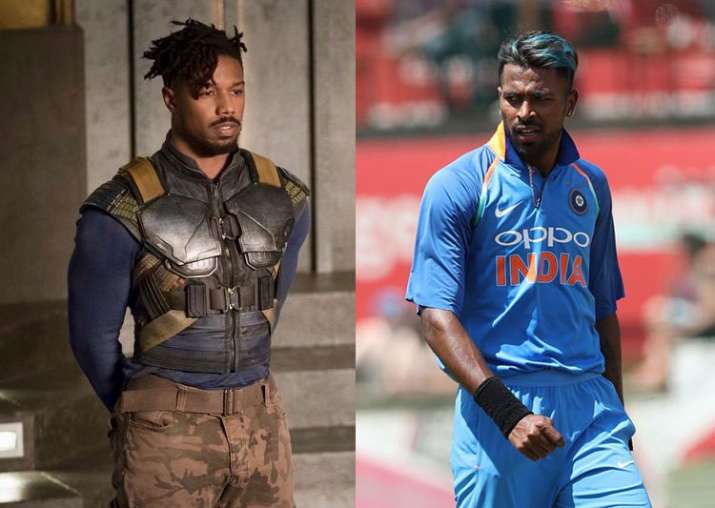 American superhero film Black Panther, which released on February 16, has impressed many in India and registered an opening collection of over Rs 7 crore here. The cricket-frenzy nation, however, couldn't resist finding a connect and during this process, Hardik Pandya was the perfect fit.
Allrounder Pandya is currently busy playing T20Is for India, which recently clinched their maiden ODI series in South Africa. 
Before the ODI series, Virat Kohli-led side suffered a 2-1 Test series defeat and Pandya was among those who failed to contribute amid tough conditions. After scoring a noteworthy 93-run knock in the first Test in Cape Town, Pandya lost his wickets cheaply for 1, 15, 6, 0 and 4 in successive innings of the three-match Test series.
However, 24-year-old Gujarati lad, who is known for his style and hair colours, didn't fail to impress with his acting skills in the recently released superhero film.
Confused? No, Pandya didn't act in Black Panther, but netizens find him much identical to Michael B. Jordan, who is playing Eric 'Killmonger' Stevens aka N'Jadaka in the Marvel Studios' film.
Here's what fans have to say after watching Hardik Pandya's performance in Black Panther:
Loved the role of Hardik Pandya in #BlackPanther pic.twitter.com/GwdUJ71hqb

— Godman Chikna (@Madan_Chikna) February 16, 2018
I'm not a big fan of hollywood movies, but the way Hardik Pandya acted in Black Panther is totally amazing!#INDvsSA #BlackPanther #HardikPandya pic.twitter.com/7Yq5ky7FIo

— Retw!tter Baba (@ghorkalyug01) February 22, 2018
Hair game✔ Attitude✔ascent✔fighting skills✔)✔looks✔he was just perfect in the movie 🔥🔥#BlackPanther #hardik pandya😍 pic.twitter.com/aWKeUs22UC

— _Iamdante_ (@dan_gathii) February 21, 2018
Hardik Pandya is truly an all rounder! #BlackPanther pic.twitter.com/PrG7o3Bu5v

— SRK's Manasa (@manasarani) February 20, 2018
Hardik Pandya Was Lit In Black Panther🔥 pic.twitter.com/6FgJCiGygr

— Preeyesh Babaria🇮🇳 (@Preeyesh07) February 19, 2018
Hardik Pandya was also great #blackpanther pic.twitter.com/FeLYVM897g

— V. (@CupOfToffee) February 17, 2018
Great performance by Hardik Pandya in #BlackPanther pic.twitter.com/g5iQ5w2m6g

— abhi changer (@abhichanger) February 17, 2018