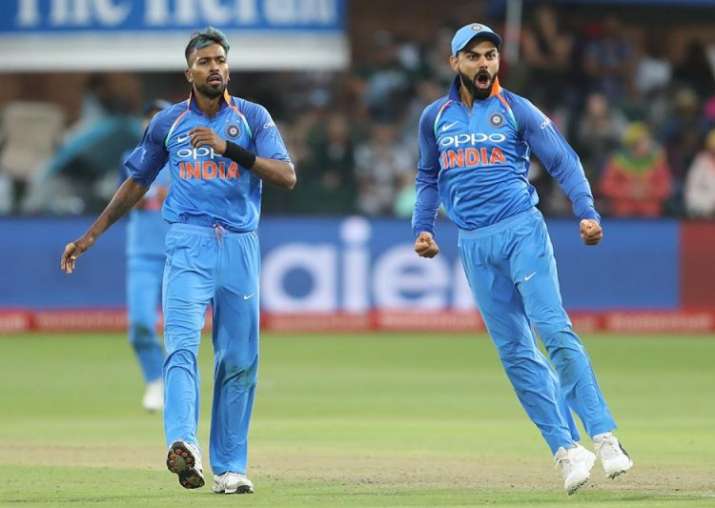 Under the captaincy of Virat Kohli, India scripted history on Tuesday when they defeated South Africa by 73 runs in the fifth ODI at St. George's Park, Port Elizabeth, to clinch the six-match ODI series 4-1, with a match to go. It was Indian cricket team's maiden bilateral series victory on the South African soil.
By the virtue of this win, India came atop the ICC ODI Team Rankings with a healthy points' difference.
India's win was set up by 115 from opener Rohit Sharma - his first significant score of the tour - and sealed by wrist spinners Kuldeep Yadav and Yuzvendra Chahal, the standout bowlers in the series and constant thorns in the side of the South African batsmen.
India's first success in an ODI contest in South Africa also came with a game to spare. The tourists could stamp their dominance even further with a potential 5-1 win over the team that was ranked No. 1 at the start of the series.
India have won nine straight series, and last lost one in Australia in early 2016.
India's only failure in South Africa came in the fourth ODI, when South Africa took advantage in a rain-shortened game to pull one back and make it 3-1. That kept the home team alive, only for India to snuff out its hopes of drawing the series with a clinical win at St. George's Park.
Following the disappointment of losing the first two Tests of the tour and the series 2-1, India have bounced back to win five of the last six games between the teams in all formats.
That's more like the standard of performance expected of an India team that arrived in South Africa at the end of December with a big reputation under Kohli, arguably the best batsman in the world across all forms of the game.
In Port Elizabeth, it was Rohit's turn to lead India's batting. His century, with 11 fours and four sixes, took India to 274-7 after being asked to bat first by South Africa.
South Africa could only manage 201 all out in 42.2 overs in its chase, with Yadav taking 4-57 and Chahal 2-43.
Hashim Amla made 71 to keep South Africa hoping, but he was run out by a tiny margin with a direct hit from Hardik Pandya at mid-off in the 35th over and South Africa capitulated after that.
After Amla, South Africa went from 166-5 to 201 all out in the space of eight overs and those last five wickets all fell to the spin of Yadav or Chahal.