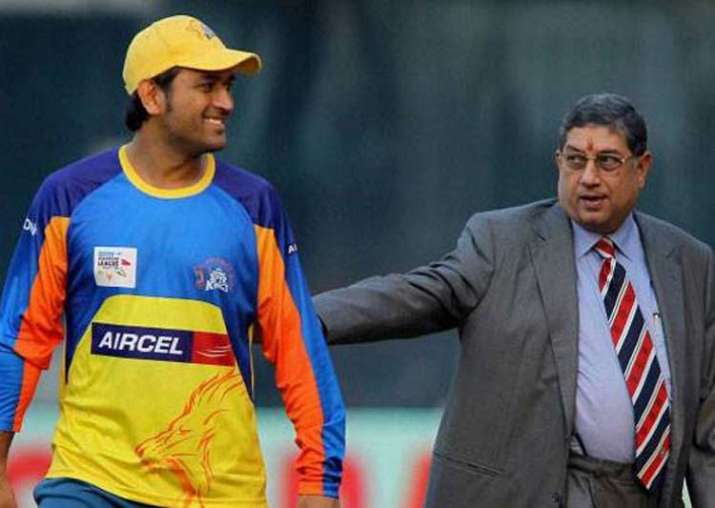 Former India captain Mahendra Singh Dhoni has for the first time opened up on his equation with former Board of Control for Cricket in India (BCCI) president N Srinivasan and about the IPL spot-fixing saga that rocked Indian cricket in 2013 and the tremors of which can be felt even at present. 
Dhoni, who was the captain of the Chennai Super Kings franchise of the Indian Premier League when the scandal broke out, faced some serious media scrutiny for his closeness with Srinivasan, owner of India Cements company which owned CSK,  and his son-in-law Gurunath Meiyappan.
Dhoni, who lifted the IPL crown twice with CSK, was even accused of defending Meiyappan, whose betting activities led to the two-year ban on the franchise. Meiyappan was one of the key officials of the team.
Following the incident, Meiyappan, the former Team Principal of CSK, and Raj Kundra, co-owner of the Rajasthan Royals, were suspended for life for indulging in betting and bringing the IPL and the games into disrepute.
But, amidst all this, Dhoni chose to keep mum and never really projected his side of the story.
Now, in a book written by journalist Rajdeep Sardesai, Dhoni has opened up on his equation with Srinivasan and on his alleged role in defending Meiyappan in front of an apex court panel. 
"Let me tell you, it is an absolute lie that I told a probe panel that Meiyappan was only a cricket enthusiast, all I said is he had nothing to do with the team's on-field cricketing decisions. I can't even pronounce the word 'enthusiast'," Dhoni is quoted as saying in an excerpt of the book titled Democracy's XI published by ESPNcricinfo.
The 2011 World Cup winning captain said Srinivasan was always there to help cricketers.
"I really don't care what people say, I found Srinivasan as someone who was always there to help cricketers," Dhoni said.
On the other hand, Srinivasan too has admitted of shieldging Dhoni's captaincy post the disastrous tours of Engaland and Australia. Mohinder Amarnath, who was the chief selector that time, wanted to drop Dhoni as captain in 2012 but Srinivasan, being the BCCI president, vetoed the decision.
"Yes, it is true that I vetoed the decision to drop Dhoni as captain. How can you drop someone as captain within a year of his lifting the World Cup?," Srinivasan was quoted as saying in Democracy's XI.
"What you call favouritism I say is my respect for a top-class cricketer's achievements. We appreciated his cricket, he gave us respect in turn, what is wrong with that?," he added.