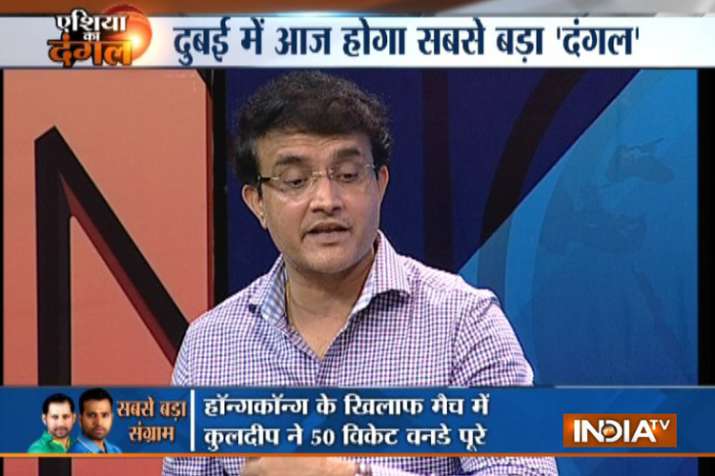 Former India captain and IndiaTV cricket expert Sourav Ganguly was today shocked to see the omission of star batsman KL Rahul from the Indian playing XI in the group-stage clash against arch-rivals Pakistan. Dada believes that if India are looking to build a World Cup winning team then Rahul deserves a place in the team ahead of Dinesh Karthik.
While speaking on IndiaTV's show 'Cricket Ki Baat' on the day of the Indo-Pak clash, Ganguly was miffed that a player of Rahul's calibre was being made to sit out games when he should be playing as much cricket as he can as he is so young and talented at the moment.
"I respect all the players in the current team as I myself have played the game for a long time but I still feel that India should have gone for Rahul instead of Karthik. In England, everyone saw that Karthik couldn't score runs. And if you are looking to build a team for the World Cup, Rahul and Rishabh Pant's name should come before Karthik's. The latter deserves to be in the team only if he is the wicket-keeper as well, otherwise, Rahul is a far better player than him. His career is on the wane," asserted Ganguly.
He further stressed that Rahul's absence against Hong Kong in India's opening match yesterday was also shocking. In Dada's opinion, the Kannada batsman not just deserves to be in the team but also needs a clearly defined role and batting position to draw confidence from.
"I was surprised to see the exclusion of KL Rahul against Hong Kong. Maybe he was rested but he has only played 30-odd ODIs and he should be made to play more often as he is a good player. The most important thing is to define his role and batting position in the team. We can't play him as a floater always," added Dada.
When asked about the chances of the two teams in today's clash, the 113-Test veteran believes that India are the better team on paper even though they are missing their batting maverick, Virat Kohli. 
"The current Pakistan team doesn't have the balance of the teams of yesteryears. I think it will be a good match as Pak plays well in these conditions as it's their home venue at the moment. But on paper, India is the stronger team and I will be surprised if they lose this game," said the 46-year old.
Indian wicketkeeper MS Dhoni who only plays in limited-overs formats will be in action during the Asia Cup while rookie Test centurion Rishabh Pant bides his time in India. Ganguly though considers this as a missed opportunity and would have preferred to see Pant under Dhoni's wing so as to learn the tricks of the trade from the master and be ready when the time comes to take over the gloves from the Ranchi phenomenon.
"Asia Cup is a very important tournament for MS Dhoni. He is a great player and has scored a ton of runs but he won't keep getting games just due to this. There is a time limit for everyone. I'm surprised to see that Pant wasn't given a chance in this tournament," opined Sourav.
In the end, The Prince of Kolkata sounded a cautionary note by saying that India needs to get its middle-order right which is at the moment filled with non-regulars like Dinesh Karthik and Ambati Rayudu.
"The one thing that scares me a bit is that the World cup is not far away while the Indian batting sans Kohli looks vulnerable. Dinesh Karthik's career is on the wane, MS is not in his prime anymore, Kedar Jadhav and Ambati Rayudu are making comebacks. So if you are playing four such batsmen who are not settled in this format and not a certainty in the team then it looks like the selectors are compromising with quality in the team. So the mindset needs to change," concluded Ganguly.