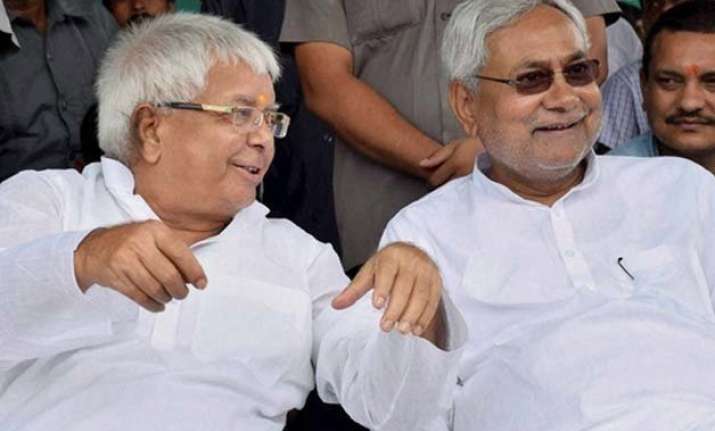 New Delhi/Patna: Bihar Chief Minister Nitish Kumar and RJD chief Lalu Prasad will hold talks with Samajwadi Party President Mulayam Singh Yadav here tomorrow amid continuing differences over formalising a merger before the state Assembly polls.
A day ahead of the meeting, Lalu caused disquiet in JD(U) with remarks that former Bihar CM Jitan Ram Manjhi, a detractor of Kumar, should also be made part of the "broader unity" against BJP.
JD(U) spokesperson K C Tyagi said Kumar and Lalu have arrived here for the meeting during which the talks will focus on Bihar polls, due later this year, and merger issues.  
Though Kumar is keen on a merger between the two Bihar-centric parties materialising before the polls, neither Samajwadi Party nor RJD seem as interested.  
After initial burst of enthusiasm which led to the announcement of merger of six Janata Parivar offshoots last month, there are clear signals that SP and RJD want to have a relook, which had prompted Kumar to ask Mulayam to "clear the air".
Mulayam was declared as the head of the new party on April 15.
However, even before the talks could resume, in a curious turn of events, Lalu today floated the idea of roping in Manjhi, who has floated his Hindustan Awam Morcha after being ousted as chief minister, in the "broader unity" exercise to take on the BJP.
"We are for broader unity of parties against BJP in which everybody, including Manjhi, shall come forward," Lalu told reporters in Patna, queering the pitch just before the crucial talks.
Kumar, who had handpicked Manjhi as his successor after he decided to step down following JD(U)'s humiliating defeat in last year's Lok Sabha elections, chose not to speak to the media over Lalu's suggestion.