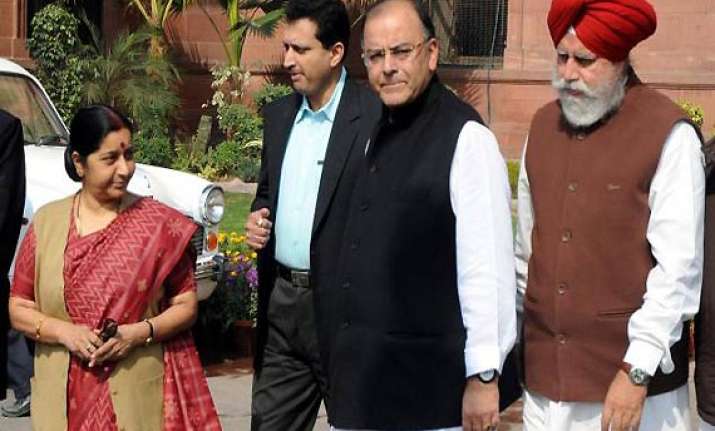 New Delhi, Dec 1: BJP today alleged the government's move to provide quota within quota to Muslims under OBC category is aimed at creating misconceptions in the community ahead of assembly elections in some states and suggested that its legal aspects should be looked into first.

"Our Law Minister Salman Kursheed is an intelligent and well-read person who is also an eminent solicitor. He should look into whether quota within quota for Muslims under OBC category is possible or not. Several cases are already pending in the Supreme Court on reservations," BJP Deputy Leader in Rajya Sabha S S Ahluwalia.

Asked for BJP's views on whether reservation should be given to Muslims in OBC category, he said the party will respond when the matter comes to Parliament.

"This issue is being raised to create misconceptions (among Muslims). The constitutionality of the issue should also be studied. Many states have given more than the specified reservations and several such cases are pending in the Supreme Court. There has even been a suggestion to form a constitutional bench in the apex court on the matter," Ahluwalia said.

BJP vice-president Mukhtar Abbas Naqvi alleged that ahead of assembly elections in Uttar Pradesh, Congress and the central government led by it is raking up this "cocaine of quota" to hijack Muslim votes.

He maintained Congress, SP and BSP were in competition with each other in UP to woo the Muslims in the polls and hence were "shedding crocodile tears and raising a hue and cry over the issue".

Naqvi said in Uttar Pradesh there has been a reduction in employment of Muslims in government jobs in the last ten years and it has fallen to approximately 42 per cent.

"On the other hand there has been an increase 31 per cent in jobs for Muslims in Madhya Pradesh, 38 per cent in Bihar, 34 per cent in Gujarat and 24 per cent in Chattisgarh. These are BJP-ruled states where, without false promises and propaganda, the empowerment of minorities is taking place with a strong political will," he claimed.

BJP charged Congress had not taken any action on Sachar Committee and Rangnath Mishra Committee reports which are "gracing the Congress warehouses".

"The central government has completely failed in providing economic, social and educational development of the minorities and once again engaged in the black magic of reservations," Naqvi said.

He insisted Congress, SP and BSP were once again engaged in "Imaginary Quota Politics" for Muslims, and "this is another example of their traditional game of political exploitation of minority votes".