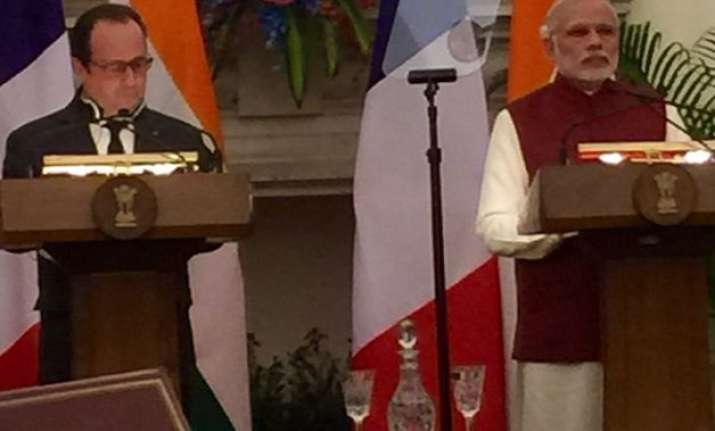 New Delhi: India and France today signed a Memorandum of Understanding (MoU) regarding the purchase of 36 Rafale combat aircraft, though the financial modalities such as cost are yet to be worked out.
This development is a step ahead from the position so far. Addressing a gathering during the presentation of the joint statement issued by the two countries, Prime Minister Narendra Modi today said that India had agreed to purchase the 36 Rafale fighter jets from France.
Negotiations between India and France over the financial structure of the purchase from Dassault Aviation have been on since the announcement of the deal by PM Modi during his visit to France in April last year.
"The Rafale is a major project for India and France. It will pave the way for an unprecedented industrial and technological cooperation, including 'Make in India', for the next 40 years. Agreeing on the technicalities of this arrangement obviously takes time, but we are on the right track", French President Francois Hollande said on Sunday.
Meanwhile, Foreign Secretary S Jaishanker said that the current development was a step away from the deal finally being done. "This is an MoU. Once financials are settled, an Inter Governmental Agreement will be done," he said.
French President Hollande arrived in India yesterday as part of his three-day state visit to the country. He will be the Guest of Honour at the Republic Day parade on Tuesday. He was accorded a ceremonial reception at the forecourts of the Rashtrapati Bhavan this morning. President Pranab Mukherjee formally welcomed his French counterpart at a grand ceremony. Hollande was given Guard of Honour and a 21-gun salute.
Prime Minister Modi and several of his Cabinet colleagues were present at the occasion. Minister for Environment and Forests Prakash Javadekar, who is President Hollande's minister-in-waiting during the visit, was also present at the occasion. There is a wide set of engagements for the President as part of his visit.
Here are the live updates:
* Although headquartered in India, the ISA is a global institution meant for the benefit of mankind: PM Modi
* Our ancestors have taught us to love nature, we see god in a plant, this is our tradition: PM Modi
* We are the people who taught the world how to love Nature, we were taught that God resides in a plants: PM Modi
* The 3 nations took joint initiative to promote innovation that is sustainable, affordable and accessible: PM Modi
* Energy has become an integral part of a nation's development journey: PM Modi
* Three nations-USA, France and India took the initiative of 'Innovation': PM Modi
* World has been discussing global warming for the last one year and how to mitigate it: PM Narendra Modi
* Today, a new chapter opens for nations to utilize the power of the sun- French President Francois Hollande
* PM Modi & France Pres. Hollande inaugurate the interim Secretariat of International Solar Alliance (ISA) in Gurgaon. . Both leaders took the Delhi Metro to reach the destination. 
* France reaffirmed its support for India's candidature for a permanent membership of the UNSC: Joint Statement
* French President Francois Hollande terms inking of IGA for Rafale as a "decisive" step, says there are some financial issues that will be sorted out in couple of days.
* From smart cities, locomotives, railway tracks and nuclear power: These are all foundations for building a new commercial partnership
* Thanks to the leadership of President Hollande at COP-21, the world witnessed the emergence of a new Climate framework: PM Modi
* Our joint statement on counter terrorism underscores our determination to combat all forces that sponsor, shelter & support terrorism: PM Modi
* From Paris to Pathankot, we saw the gruesome face of the common challenge of terrorism: PM Modi
* From locomotives to satellites, arch'l excavations to smart cities; solar energy to nuclear power; our decisions have touched all domains: PM Modi
* We expect that even the financial aspects pertaining to purchase of Rafale jets will be resolved as soon as possible: PM Modi
* Leaving out financial aspect, India and France have signed Inter-Governmental Agreement on purchase of 36 Rafale fighter jets: PM Modi
* France would be one such country whose military troop will be marching tomorrow along our troops shoulder to shoulder: PM Modi
* I am honoured to welcome you as our guest for the Republic Day celebrations in Delhi. India is privileged to share one of its oldest and most trusted strategic partnerships with France: PM Modi.
* India France exchange 13 agreements cutting across a wide variety of sectors
* PM Modi hosts a working lunch for President Hollande
* French President and PM Modi now holding delegation level talks at Hyderabad House in New Delhi
* EAM Sushma Swaraj calls on President Francois Hollande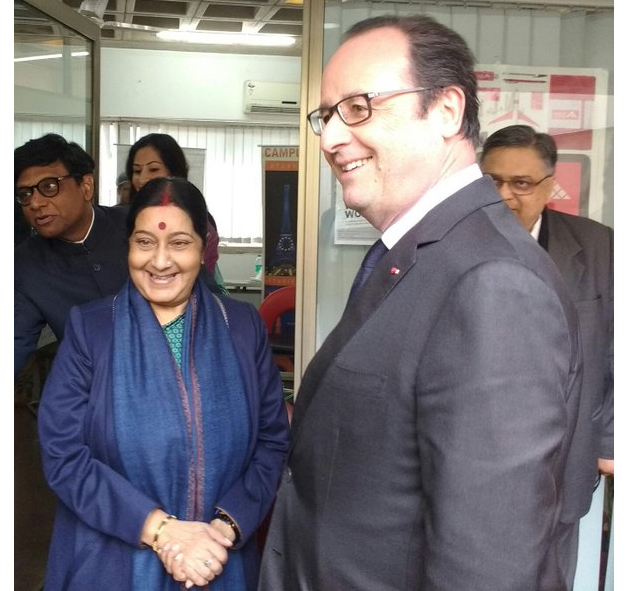 * We will take measures that are required to protect democracy and therefore the decision that was taken to extend the period of emergency in France so that we can take all necessary measures: Francois Hollande
* France will not be deterred by the threat of ISIS. Our full effort is to eradicate them: Francois Hollande
* Once again it underlines our shared values that we aim to protect and also represent across the world. We are going to follow up on all the decisions that were taken at the COP21 as far as action against climate change is concerned but in addition to that we will be further strengthening our economic relations in all areas from agriculture to space: Francois Hollande
* These are areas which are of interest and there is immense cooperation between our two countries. Prime Minister Narendra Modi played a very important role in the success of COP21: Francois Hollande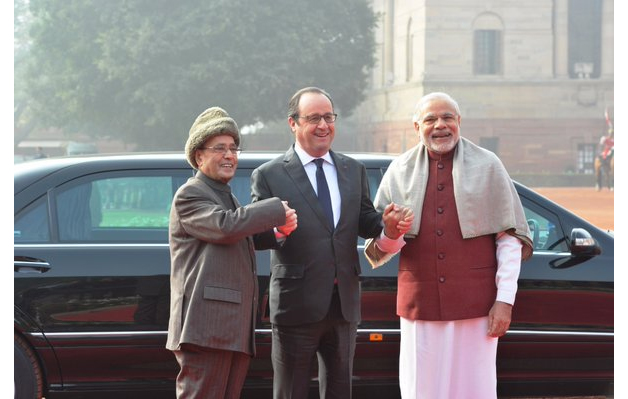 * India and France will work to improve economic relations in the field of agriculture and space: Francois Hollande
* Today, there are all kind of terrorist threats that are hovering around countries such as India and France and one of the main aims of my visit here is to reinforce and strengthen the cooperation against terrorism between our two countries: Francois Hollande
* I am honoured to be the chief guest at India's Republic Day function: Francois Hollande
* French President Hollande accorded ceremonial reception at Rashtrapati Bhavan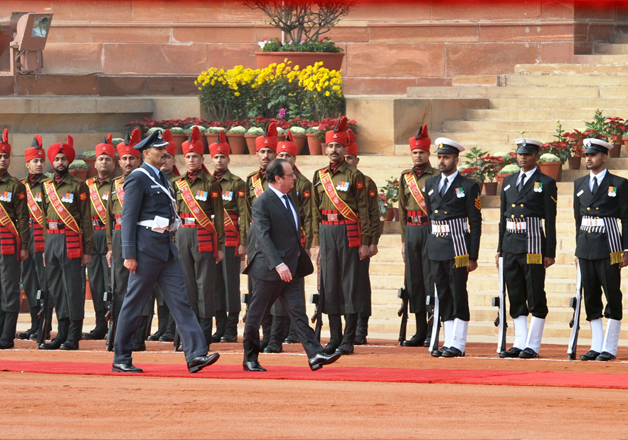 * French President Francois Hollande plants a tree in Rajghat
* French President Francois Hollande pays tribute to Mahatma Gandhi at Rajghat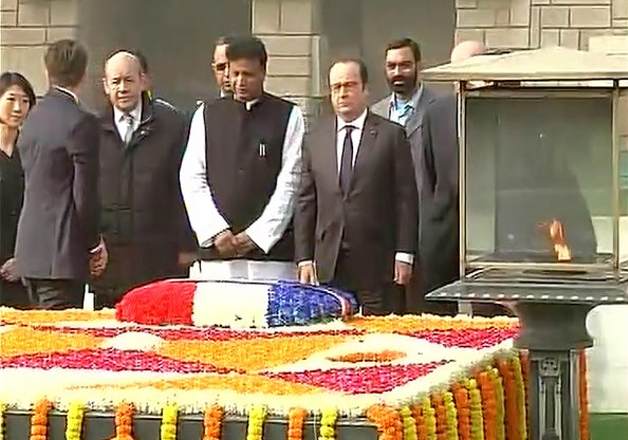 Hollande arrived in Chandigarh yesterday where he was received by Prime Minister Narendra Modi. The two countries signed 16 agreements including an agreement between Airbus Group and Mahindra for manufacture of helicopters and three MoUs under the 'Smart City' theme.
On Tuesday, the French President will witness the Republic Day parade at Rajpath as the Chief Guest. This is the fifth time that a serving President of France will be the Chief Guest at India's Republic Day function.