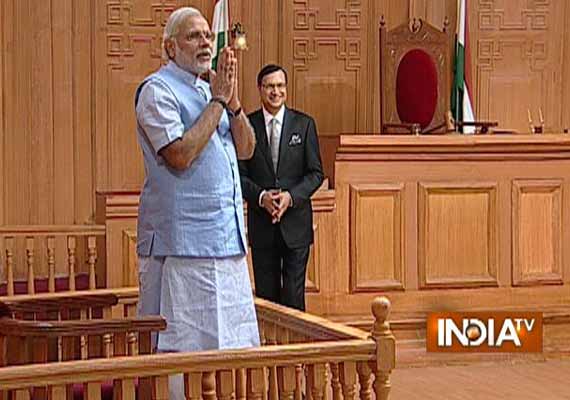 Question from audience: You are campaigning relentlessly for last two months. From where do you get the motivation?
Modi:
I had started the campaign from 15th September. So now it's 6-7 months since I started the campaign. I am a laborer and my childhood was very tough and physically I am used to all this. I also do my Yoga and Pranayam. But the important point is that I believe you never get tired by doing work. You get tired when you don't work. When you clean your house, you don't get tired, it gives you satisfaction.
People's blessings give you the power to work tirelessly. The only thing required is commitment. The love and affection that I have received from people in last 6 months keeps me running.
Question from audience:
When will we come out of caste based politics?
Modi:
That's why I say unless we start using saying - we the 1.25 crore people- the poison of caste will keep creating fissures in the society. There is no harm in feeling proud of your caste but the poison of casteism that creates hatred does not benefit anyone.
Rajat Sharma:
But Sonia ji says that you do what she calls 'zeher ki kheti'.
Modi:
It's good that you have given me the opportunity to speak on this. In Jaipur in last June-July, there was Congress convention going on where Rahul made a speech. He said that I went to Mom's room this morning and I found her crying. She told me that power is poison. Now the question is who has been in power for the longest time? Who tasted the poison for the longest time? Who has the maximum amount of poison in the stomach? So who will spew poison the most?
Rajat Sharma:
Maulana Madani has said that Muslims are being made to feel  scared in the name of Modi. You talk about national integration but it can actually break the country.
Modi:
What he said was that those who are saying all this are trying to break the nation.
RS:
He says that Muslims are being made to feel scared in your name. What is it in you that scare Muslims?
Modi:
I don't think they feel scared. In Gujarat, Muslims feel greater enthusiasm when my name is mentioned.