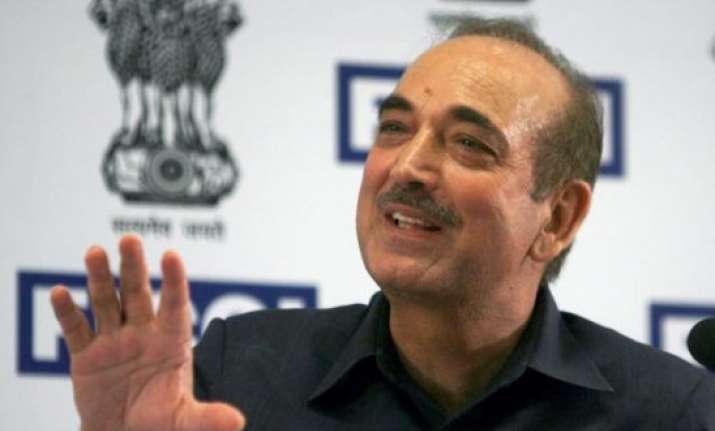 Jammu: Attacking BJP, Congress today said BJP will not reach even a double-digit tally in Jammu and Kashmir assembly polls despite putting in all-out efforts.
"Even after putting in all-out efforts by roping in entire Union cabinet, BJP will not be able to touch double digits in ongoing Assembly elections in the state," Leader of Opposition in the Rajya Sabha Ghulam Nabi Azad told an election rally in Suchetgarh here.
Azad accused BJP of hoodwinking the people of the state, saying all the efforts of BJP would go in vain when the results of the elections would be declared.
"Dozens of Bollywood actors and actresses have been dropped here... to spread misinformation against Congress. Prime Minister Narendra Modi did not spare even a single Union cabinet minister in New Delhi, they are roaming in each and every Assembly Segments," Azad said.
"They have nothing in their kitty to tell about their achievements but have just one agenda to spread hatred against Congress and divide the people on caste and religion lines," he said.
The Congress leader claimed that people of the state have rejected the misinformation of BJP and in the first four phases of the assembly elections have overwhelmingly voted for Congress.
"In last four phases of polls, people of Kashmir rejected BJP's ideology by turning up at polling booths in heavy numbers. People of Leh, Ladakh, Chenab Valley and Poonch districts too detected the BJP's hidden agenda being carried on religious lines and openly voted against BJP candidates," he claimed.
Azad said when polling in majority of Assembly segments were complete BJP leadership too has realised its defeat.
"Now it is trying to pump in all types of resources just to hoodwink the people to fetch few seats in fifth and final phase," he said.
Expressing hope that his party would form the next government in the state, Azad accused the BJP-led government in the Center of taking the credit of the schemes and projects launched by the previous UPA government.
"What the BJP-led government at Center has done in past six months? Nothing but is busy in cutting ribbons during inaugural ceremonies of projects completed by Congress-led UPA government," he alleged.